How Will Fred Armisen's First Starring Role Pave the Way for His Post-'SNL' Career?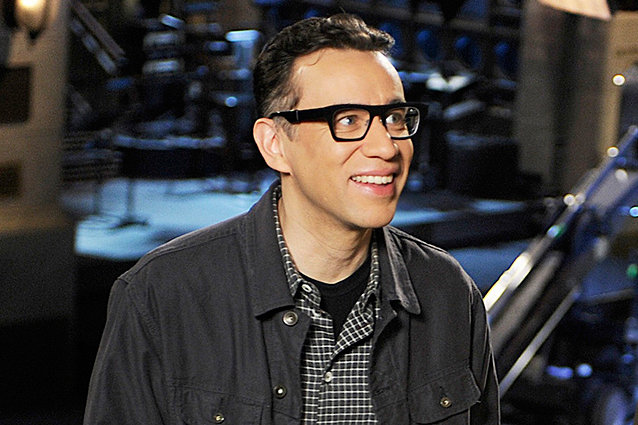 We're still not entirely sure where the next season of Saturday Night Live stands Fred Armisen-wise. In true Sudeikis fashion, the longtime variety show star has kept the status of his return moreover nebulous. But whether or not we'll be seeing him pick up with his old Barack Obama (oh, no, that's Jay Pharoah now), Kat and Garth (nope, Kristen Wiig is gone), or The Californians (no, no, they've got to realize that it's time to call it quits on that one) shtick, we will have access to Armisen in another form entirely: the movies. The comic actor has scored his first (potentially) post-SNL gig, and first starring role in a big screen feature. Armisen will take the central role in the tentatively titled Justice for Al, a house arrest comedy from the director of Bad Santa, as reported by The Wrap.
For years, Armisen was a ubiquitous bit player in Hollywood's comedy scene, embodying one-off characters of every race and ethnicity imaginable (acting versatility is really dependent on ambiguity of skin tone, apparently). But Justice for Al will be Armisen's first shot at taking the wheel of a movie. So how much weight are we really putting on this role? History shall guide us; let's look at some of Armisen's contemporaries…
Kristen Wiig's first starring role: The Brothers Solomon, a half-witted comedy in which she played the surrogate mother to two dopey brothers. Didn't exactly showcase the chops for which we'd come to love her.
Will Ferrell's first starring role: Men Seeking Women, in which he played an idiotic manchild on the hunt for sexual gratification. Yeah, sure, that's pretty much what he always plays… but the movies got a lot better. Or at least more quotable.
Tina Fey's first starring role: Baby Mama. Yeah, she was important in Mean Girls (and she wrote it), but that was Lindsay's movie. Oh Lindsay. The promise you once had… In any event, Baby Mama was cute, but nowhere near the degree of wit that we've come to associate with Fey.
Amy Poehler's first starring role: See above. All of it.
Jimmy Fallon's first starring role: Taxi. And now he's hosting the freakin' Tonight Show. We live in a strange world, folks.
Andy Samberg's first starring role: Hot Rod. I don't care what you say, Hot Rod is hilarious. Still waiting for anything in the vein of a follow-up…
Going back further, we have the likes of Mike Myers, David Spade, Chris Farley, Adam Sandler, Chris Rock… all of whom turned their SNL reputations into blockbuster careers. So how will Armisen fare, and is Justice for Al a good sign?
At least it's not a Californians movie. Don't act like they haven't considered it!
Follow Michael Arbeiter on Twitter @MichaelArbeiter | Follow hollywood.com on Twitter @hollywood_com
More:
'SNL' Finale Recap: Goodbye, Bill Hader
'We're the Millers' Trailer
Are Armisen and Sudeikis Leaving 'SNL'?
---
From Our Partners


Stars Pose Naked for 'Allure' (Celebuzz)


Let's Translate Walter White, Taylor Swift and More into Dothraki (Vulture)