'Friends with Kids': Bloopers at the Grown-Ups Table — EXCLUSIVE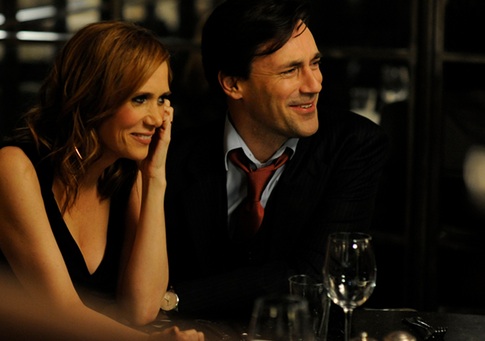 While watching the DVD extras for Friends with Kids, Jennifer Westfledt's sharp, sexy, and wonderfully rewatchable (it's the kind of comforting dramedy tailor-made for sick days, rainy days, and everything in between) the old Hollywood adage "Never work with children or animals" certainly springs to mind. 
Especially in the special features chapter "Fun with Actors and Kids (Ad-libs & Bloopers)" in which both children and animals don't necessarily feel like cooperating. In one clip a child actor really doesn't want star
Adam Scott
to say his line again (in another, the actor who plays his son really doesn't want say his own line) while co-star
Megan Fox
learns the perils of working with a dog on a leash after it, quite literally, pulls her off-screen. 
Of course, even the most professional of adults (and Westfeldt got some of the best in the biz, including
Maya Rudolph
,
Chris O'Dowd
,
Kristen Wiig
, and her real-life beau
Jon Hamm
to be part of the ensemble) can have their off moments, too — especially when working conditions were not exactly in their favor. Not only was the cast working with animals and children, but the cast and crew had to shoot the movie in just four weeks in the dead of a harsh New York winter. 
In this exclusive sneak peek at the hilarious Friends with Kids DVD extras, watch as some of the most talented grown-ups in Hollywood miss their cues, flub their lines, and, in the case of Maya Rudolph, improvise some harmonies between takes. Let's take it from the top and check it out:
Friends with Kids arrives on Blu-ray and DVD tomorrow, Tuesday, July 17.
More: