Funcomfortable Movies — An Overview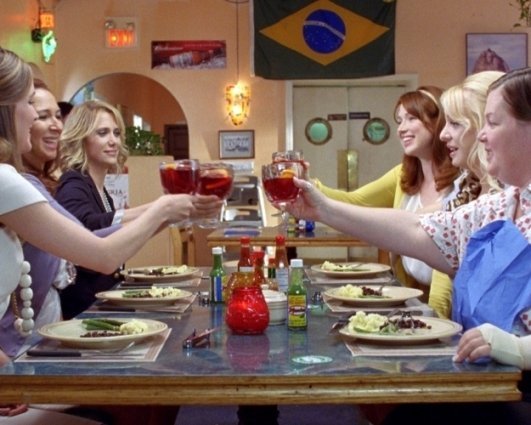 Universal Pictures
Jill Soloway, the writer/director of Afternoon Delight, recently coined the term "funcomfortable" in her New York Times profile to describe that squeamishly funny genre of movies that combine raunchy-wry humor with moments that are just so honest that you can't help but get a little fidgety (think: every episode of Girls). Here's a sampling of "funcomfortable" flicks if you're hankering for an awkward evening of unsexy sexuality.
Bridesmaids


If you can picture the scene when Melissa McCarthy brilliantly defiles a sink in a prissy bridal salon, then you can understand why Bridesmaids fits this category. But "funcomfortable" is more than just scattalogical humor. It's about those clumsy, embarrassing, human moments where female sensuality is presented in real, sometimes unglamorous ways. Enter any scene where our heroine, Kristen Wiig throws herself on John Hamm.
Bachelorette
*Skip this clip if you're at work or sitting next to somone you've hooked up with.


Do not watch this film if you're in the planning stages of a wedding. If you're "single-to-mingle," please enjoy this hyper-real depiction of friendship, jealousy, party drugs and sexuality in their most pure and pathetically funny incarnations.
Knocked Up


If you're wondering how pregnant people have sex, what will happen to your boyfriend if he doesn't move out of the house he shares with his college roommates, or what your marriage will be like if your husband's idea of cheating is seeing Spiderman in theaters without you, then watch this classic Apatow movie and giggle while you squirm during every scene featuring Katherine Heigl (aka, every scene).
For a Good Time Call


Two women – one prude, one bawdy, figure out how to monetize sex (legally) and learn about the almighty female bond along the way. If dirty talk makes you blush, you'll have to fast-forward through most of this playful film.

Slums of Beverly Hills


If you're going through "Orange is the New Black" withdrawal, watching Natasha Lyonne explore her newly sprouted femininity in this sweet, yet frank feature film will be your perfect fix. (Ed Note: I saw this movie in theaters with my mother. That was neither fun nor comfortable).

More:
'80s Movies That Should Be Remade
Obnoxious Child Actors Who Ruined Classic Movies
6 Up and Coming Young British Actors
---
From Our Partners:


40 Most Revealing See-Through Red Carpet Looks (Vh1)


15 Stars Share Secrets of their Sex Lives (Celebuzz)