Brad Pitt and Shia LaBeouf Command a Tank in New 'Fury' Set Photos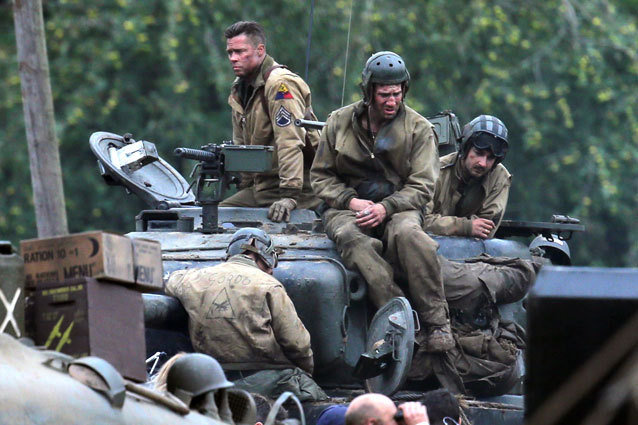 Splash News
Remember when Brad Pitt finally cut his hair and all of the tabloids fell over themselves in a rush to report it? Well, it turns out the reason for the haircut is much more interesting than the haircut itself: the actor will be starring in the upcoming World War II film Fury, which takes place during the end of the war, and follows the five-man crew of the tank Fury as they undertake a dangerous mission. Pitt will play Wardaddy, a battle-hardened sergeant alongside a cast that includes Shia Labeouf, Jon Bernthal and Logan Lerman, and new photos from the film's set show off their gritty new looks. 
In the first, Pitt and his crew hang out on their tank, looking just as dirty and battle-weary as you'd imagine WWII soldiers would… or they could just be worn out from a long weekend of camping. Director David Ayer reportedly ordered Pitt, LaBeouf, and three other actors to camp out in the wilderness so the group could bond before filming began. The cast also spent some time with soldiers at the National Training Center in California back in June to prepare for their roles.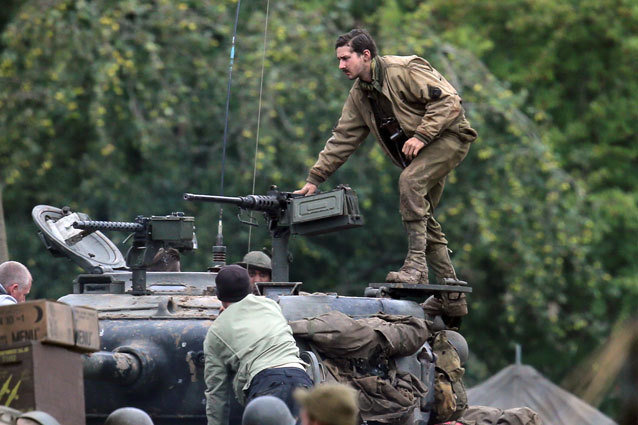 Splash News
The second set photo shows LaBeouf on his own, climbing on top of the tank. However, it's most remarkable for being the best look anyone's gotten thus far of the impressive moustache that LaBeouf will be sporting for the role. Although, knowing LaBeouf, there's a strong chance that he'll decide to keep his 'stache around even after filming wraps — he's been known to feel some strong affection for his dubious facial hair before. 
More: 
Jimmy Fallon and Brad Pitt Are Fuent In Yodel
Watch Brad Pitt in the '12 Years a Slave' Trailer
Check Out the First Poster for Lars Von Trier's 'Nymphomaniac'
---
From Our Partners:


A Complete History Of Twerking (1993-2013) (Vh1)


15 Stars Share Secrets of their Sex Lives (Celebuzz)