'G.I. Joe: Retaliation': Ninja Fights and the White Stripes Blend Perfectly — TRAILER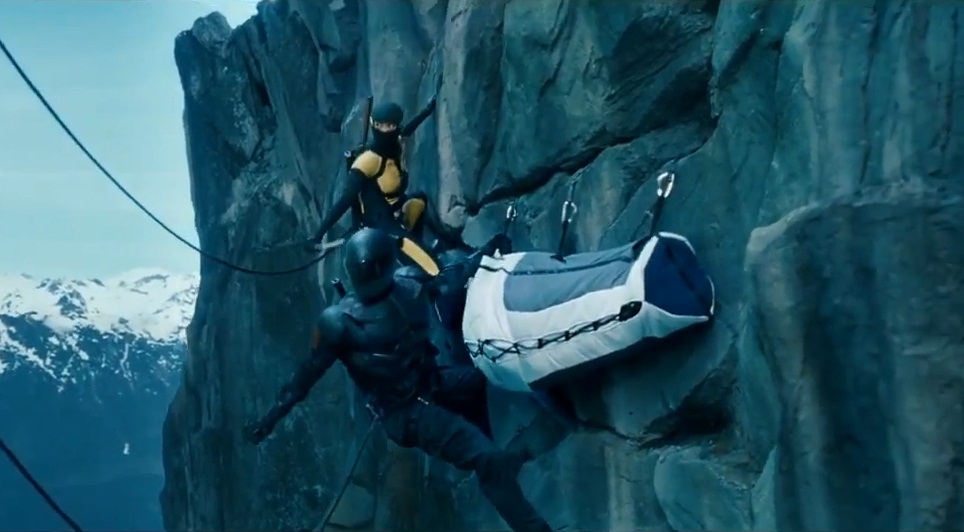 The action genre is not for everyone. A good amount of people are turned off by the high-flyin', fast-drivin', guns-a-blazin', 90-minute explosions of bloody adrenaline churned out several times a year by this corner of the film industry. And though I fall squarely in the camp of those not too keen on big screen violence, my aversion to the practice is far overshadowed by my affinity for the White Stripes (and I'm sure I'm not alone there). As such, we have a G.I. Joe: Retaliation trailer that works for everybody.
A leviathan of faceless ninjas over take the new video, soaring swiftly above mountaintops and facing off in remarkably choreographed sword fights as "Seven Nation Army" colors the backdrop, the visuals and the audio working in extremely impressive conjunction for the likes of a movie trailer. It's almost a shame when the focus veers away from the masked warriors towards the end of the trailer, shifting instead to the obligatory showcase of stars Bruce Willis, Dwayne Johnson, and their behemoth arsenal. But if this kind of display of meticulous ninjarama carries through the bulk of the big screen feature (and with as dynamic a soundtrack choice as Jack White's Elephant opener), then this next G.I. Joe adventure might be worth the time of even those not ordinarily affixed to action flicks.
Check out the stellar trailer below; Retaliation opens March 29.
[Photo Credit: Paramount Pictures]
More:
'G.I. Joe: Retaliation' Returns… Still With Barely Any Channing Tatum — TRAILER
'RED 2': Helen Mirren Wants to Pop a Cap in Bruce Willis'… Well, You Know — TRAILER
Dwayne Johnson in 'Teddy Bear' Movie: Hollywood's Next Big Trend Is Incredibly Plush

100 Hottest Women of the Century: PICS