'G.I. Joe: Retaliation' Returns… Still With Barely Any Channing Tatum — TRAILER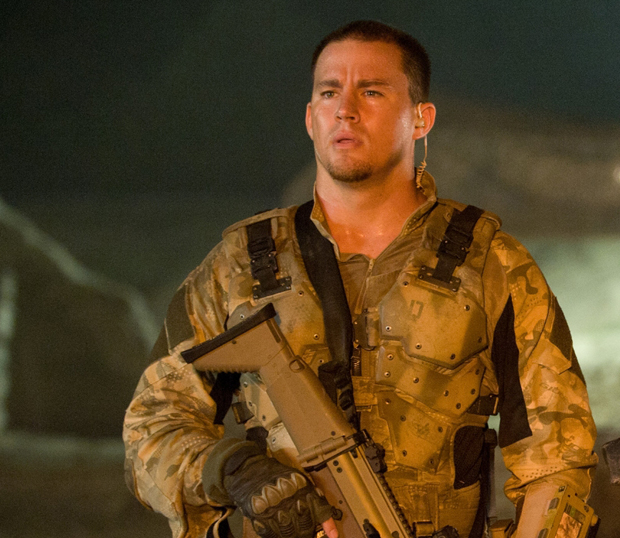 A mystery is afoot. And it has to do with the new G.I. Joe: Retaliation international trailer.
It's not the mystery actually featured within the trailer — the one concerning a nefarious U.S. president who turns out to actually be an evil doppelganger of the kidnapped head of state. It has to do with the fact that in this two-and-a-half minute video, we see approximately five seconds of Mr. Channing Tatum.
You might recall that the developing G.I. Joe flick was supposed to actually hit theaters this past summer, before it was announced — pretty close to the release date, in fact — that the movie would be pushed back until March of 2013. We all speculated that the delay had everything to do with the lack of focus paid to Tatum, who became a superstar after his casting in this film. The film was to be converted to 3D, but the world assumed that announed reshoots were also intended to give Tatum a larger and more central role — a logical move considering the popularity of the young actor. But the new trailer doesn't seem to offer any indication of the sort. We're just as Tatumless as we were before.
The one scene that does feature Tatum slates him as star Dwayne Johnson's babysitter — hardly the hero position we all assumed he'd be taking. Then, things explode, and we never see him again. The rest of the trailer focuses on Johnson's ragtag team of Adrianne Palicki, D.J. Cotrona, Ray Park, and the ringer Bruce Willis, and their mission to faceoff against the president impersonator.
Thus, our steadfast hypotheses on why G.I. Joe: Retaliation was heading back into the furnace are shot to hell. Why didn't they amp up the Tatum?
That is the question plaguing the world right now. Check out the trailer below, compare it to trailers of past, and let us know come up with a good theory… we're dyin' here! We need an answer!
[Photo Credit: Paramount]
More:
'Breaking Dawn – Part 2': Taylor Lautner Stinks in New 'Twilight' Clip — VIDEO
Jamie Foxx Will Join 'The Amazing Spider-Man 2' as Supervillain Electro
What Is Wu-Tang Frontman RZA's Favorite Woody Allen Movie?
From Our Partners: