'Game of Thrones' Star Nikolaj Coster-Waldau Talks 'Mama' and Why He's Afraid of Children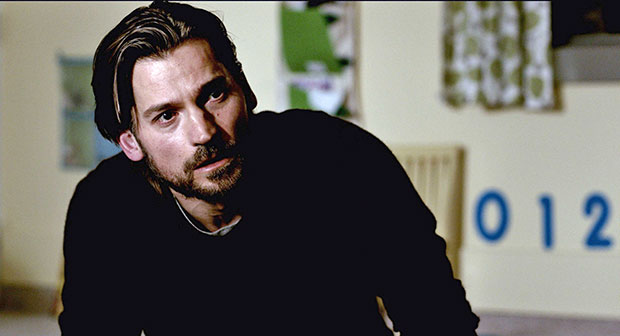 On Game of Thrones, he's called the Kingslayer. But Nikolaj Coster-Waldau's starring role in the new horror flick Mama may inspire a new nickname: Heartslayer. Because in Mama — Andres Muschietti's terrifying horror flick about a young couple who face a brokenhearted, grotesque ghost that accompanies the two children they adopt — we get to see the soft side of the 42-year-old actor, known primarily to U.S. audiences as that guy who pushed a kid out of a window.
Coster-Waldau plays two characters in the movie: Jeffrey, a man who loses everything in the first edge-of-your-seat sequence, and his kinder, gentler brother Lucas. Jeffrey brings his two small daughters with him when he flees town after committing a few murders. Lost in the woods, he's forced to make an impossible decision — life, or death — regarding the girls. "I couldn't use my own kids [as inspiration]," Coster-Waldau (who has two girls, 9 and 12) explains. "That would be just traumatic. But you try to imagine, what would you do? He just killed his wife! He's in the middle of nowhere, he's lost, he's freezing, he just wants to die — but he knows if he [kills himself]… it would kill his kids either way. I know how sick it sounds, but he knows he has to do what he's about to do. It's horrible, and it's a terrible scene that was tough to do, but it was important for the film that we got it to that extreme. It sets an emotional depth."
It certainly does — but anyone who has seen the trailer knows that the girls make it through in one piece (well, physically). Years later, it's brother Lucas and his girlfriend Annabel (Jessica Chastain) who are forced to deal with the woodland child terrors, and the mysterious creature that raised them in the 5 year interim. And while it was Mama herself that gave us nightmares, younger daughter Lilly — who contorts herself in all sorts of positions and eats dirt — comes pretty close in the fright department. "It's interesting, isn't it?" Coster-Waldau says. "Kids [being terrifying] in scary movies. The classic, of course, is The Shining — whenever I watch that, the twins scare the sh** out of me. I'm like, 'Oh no, I don't want to go to that scene!' But I still keep watching! I watch The Shining again and again, and every time it's a horrible experience. I don't know why kids tend to scare us, but they do."
So Coster-Waldau himself has a love-hate relationship with scary movies ("I use my 9-year-old in front of me as a shield"). But he maintains that Mama herself is intriguing, because she has a tragic backstory that bleeds into all of her (admittedly f***ed up) actions. "She isn't just a monster out to horrify," he says. "She actually has a reason to come back. [Mama is] a ghost that has a real emotional motivation to do what she does. If you ask people, if something happened to their kids — I think everyone with kids would say, 'I'll do anything for my kid. I'll kill myself!' People go to those extremes, because those kind of emotions are awakened. That's what you see with Mama. She's ready to go all the way, and that's what makes it scary."
But even though Mama is a ghost with a slightly understandable thirst for vengeance, Coster-Waldau made one thing perfectly clear: She's not as bad as that certain "boy king" we've all come to know and love. When asked who he'd rather spend a weekend with — Mama, or Joffrey — he replied with a laugh: "That's a tricky one. I think Mama! I mean, Joffrey just takes pleasure in hurting people, and she still has a heart… I think. She still has maternal love, while he's just pure evil."
Mama opens this Friday, Jan. 18th.
Follow Shaunna on Twitter @HWShaunna
[PHOTO CREDIT: Universal Pictures]
MORE:
Yo 'Mama' Trailer Is So Scary, It Even Made the Ghosts Hide
'Game of Thrones" Nikolaj Coster-Waldau Joins Horrifying 'Mama'
'Game of Thrones' Teaser Shows HBO, Like the Lannisters, Always Pays Its Debts — VIDEO

'The Host' Exclusive Behind the Scenes Clip: Saoirse Ronan Does Her Own Stunts! (Moviefone)