Why Gareth Edwards Should Direct a Boba Fett Movie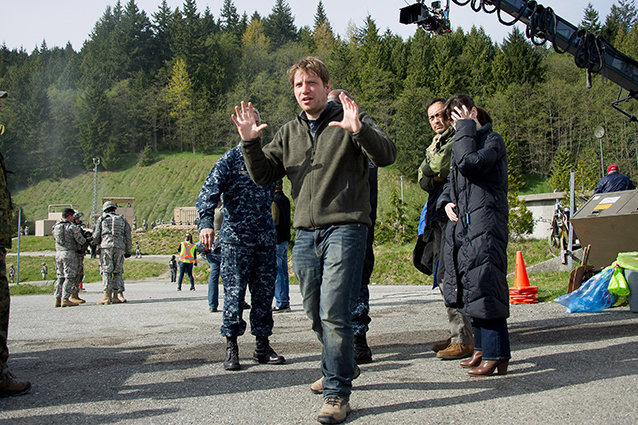 Warner Bros. Pictures via Everett Collection
Gareth Edwards' rise from micro-budget indie filmmaker to blockbuster helmer has been nothing short of meteoric. The director jumped from guerilla-filming his border-crossing flick Monsters to being trusted with helming his own take on the fiercely protected Godzilla franchise in just a few short years. Now, Edwards is moving on up yet again. The director is set to helm the first Star Wars spin-off film. While we don't solidly know what this upcoming film will ultimately be about, rumors suggest that the spin-off could focus on anyone from Boba Fett, Han Solo, Yoda, or the Red Squadron (the X-wing pilots that helped Luke destroy the Death Star).
Edwards has proven to be a deftly skilled director, especially with large scale, globe spanning events, and it's easy to see how he could translate his vision to a galactic level. One of Edward's best skills is his ability to modulate tone. His Godzilla film is a masterclass in mood. The director is able to put the viewer right into the perspective of the humans on the ground. You feel their fear and helplessness almost immediately, and at some points, it really does seem like Godzilla and his monster foes might really be the harbingers of the apocalypse. Godzilla is able to transcend his surface appearance as just a big, angry lizard, and really feels like a genuine force of nature. Because of Edward's ability to give characters and ideas so much meaning, we think the director is perfectly suited to direct the Boba Fett film.
Why Boba Fett? Well Fett is more similar to Godzilla then you might think. Stay with us here. Godzilla isn't really a character as much as he is a big scaly metaphor. He has no lines or internal struggle, just a primal desire to either protect humanity or destroy it (depending on which  Godzilla film we're talking about). Similarly, Boba Fett is less of a character and more of an enigma. Through his scant appearances in the original Star Wars trilogy, he barely speaks and is used as a tool for the Empire to track down the crew of the Millennium Falcon. Even while barely uttering a word, he becomes a symbol of fear for Han Solo and the crew. Like Godzilla, he has a singular desire to get the job done. Since he's such a thinly developed character, so much of Boba Fett's appeal lies in mood and the way he comes across to the viewer, and Edwards has shown how well he can humanize a relatively silent character. In different points throughout Godzilla, the monster feels powerful, angry, and even vulnerable and sympathetic, all without a single line of dialogue. For a possible Boba Fett film to be successful, the character would need to be treated similarly. Boba Fett needs to feel deadly and fiercely capable while still maintaining his mysterious aura. The film would need to depend heavily on mood and atmosphere to correctly bring to life such an important character.
It's not an easy task recreating a character beloved by so many fans across the world, but we do feel that Edwards is up for the task. If the stars align, and Edwards is helming a Boba Fett film, then the character will be left in good hands.