Gekko Good for Box Office Stock!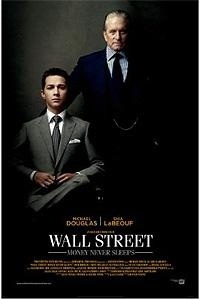 If greed is good, big box office is better as Michael Douglas prepares to unleash a re-booted version of his iconic movie villain Gordon Gekko in Fox's Wall Street: Money Never Sleeps.  Douglas reprises his role made famous in director Oliver Stone's 1987 Wall Street which opened the weekend of December 11 of that year with a $4.1 million debut.  The film opened in just 730 theatres and went on to earn $43.3 million at the domestic box office or roughly ten times the opening weekend or about $87 million in today's inflation-adjusted dollars.  While that does not seem like a huge gross, the film certainly made an impact on the popular culture, made Gordon Gekko a screen icon and made the phrase "Greed is Good," part of the vernacular.
Warner Bros.' Legend of the Guardians: The Owls of Ga'Hoole takes flight this weekend and showcases a cinematic departure for director Zack Snyder who built his reputation on highly-stylized R-rated fare such as 300 and Watchmen, but now ventures into family-friendly PG-rated territory.  With very few options in the marketplace for the family crowd, the noble owls of Ga'Hoole should gather up a gross in the high teens.  The film will get a huge boost from its IMAX 3D showings in 193 theatres domestically and 63 theatres in the international markets.
Ben Affleck's The Town from Warner Bros. opened last week to number one and a stronger than expected $23.8 million and should hold extremely well with a minimal second weekend drop that will bring its total to over $40 million by the end of the weekend.  With mid-week grosses in the $2.5 to $3 million range, the acclaimed heist movie has been generating strong word-of-mouth and kudos for Affleck's directing prowess.  A gross in the mid-teens against a minimal mid-40% drop are to be expected for this R-rated ensemble drama.
Sony's Easy A has also been generating solid buzz and is already a solid profit making machine for the studio.  With an $8 million production budget and an expected gross by Sunday night of around $30 million, star Emma Stone has proven herself to be an appealing draw for teen audiences and as such the film will have a second weekend drop in the high 40% range and wind up with close to $10 million in its sophomore weekend session.
The top five will be rounded out by a newcomer from Disney and a gross in the $8 to $10 million range.  You Again is an ensemble comedy that will have strong female appeal and boasts a cast including Kristen Bell, Sigourney Weaver, Kristen Chenoweth and the always terrific Betty White.  
We are now fully immersed in the Fall Movie Season and there have already been some terrific Oscar-worthy films and performances.  This is the best time to be a moviegoer with the combination of quality indie fare, comedies, dramas and even 3D making several appearances in the marketplace.  Year-to-date revenues are running nearly 4% ahead of last year, but attendance still lags after a slow summer season by nearly 2%.