George Clooney Reunites with Matt Damon in 'The Monuments Men'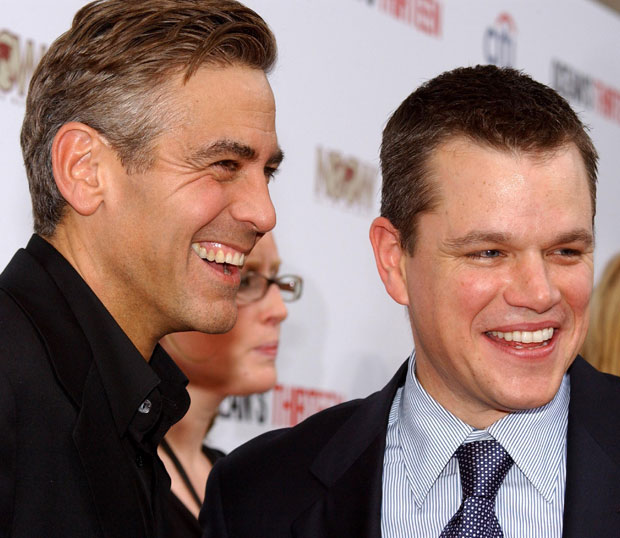 George Clooney is getting the band back together — the actor/director/screenwriter has reportedly asked his former Ocean's 11 costar Matt Damon to join the cast of his new World War II period drama The Monuments Men.
According to Deadline, Damon would join a star-studded lineup that already includes Daniel Craig, Bill Murray, Cate Blanchett, Jean Dujardin, John Goodman, Hugh Bonneville and Bob Balaban.
The Monuments Men will begin shooting in Europe in January 2013. The film, which Clooney co-wrote with his partner Grant Heslov, follows the end of Hitler's Nazi regime and the destruction of German culture and history that went along with it as a group of museum curators and art historians team up to recover priceless works of art before the Nazis destroy them.
Damon and Clooney worked together on the Ocean's films and Syriana.
The Monuments Men will use the same crew as the Clooney-produced Argo, and will be scored by the 2012 Oscar contender's composer, Alexandre Desplat.
Follow Jean on Twitter @hijean
[PHOTO CREDIT: Wenn]
MORE:
George Clooney Casts Daniel Craig and More A-Listers in New Film
George Clooney to Write, Direct and Star in Nazi film
Enough Already! Overplayed Movie Trends of 2012

25 Things You Didn't Know About 'Aladdin'

Best Hit Men Movies Ever