George Clooney Runs for Office in 'Ides of March' Trailer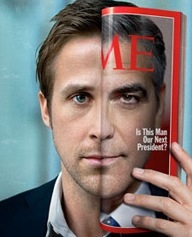 Remember when George Clooney was just that handyman from The Facts of Life instead of a prolific actor/director/producer who dabbles in social activism in his spare time? I don't.
Clooney, who has been nominated three times for his acting performances (winning once for Syriana) and once for his directing (Good Night and Good Luck), returns once again to direct himself and an A-list ensemble in the new movie The Ides of March. The first trailer for the film, an adaptation of the award-winning play Farragut North, has popped up online and sees Clooney finally playing the in the political sandbox he's been so vocal about for the past decade. Judging from the tone of the spot, it's the kind of sandbox where everyone's ready to stab you in the back. That's what you get when you run for President.
Joining Clooney on his campaign are a handful of thespians who turn Ides of March into an automatic Oscar-contender: Ryan Gosling, Philip Seymour Hoffman, Paul Giamatti, Marisa Tomei, Jeffrey Wright and Evan Rachel Wood—all looking particularly ferocious (maybe even a little too much). Theatrical adaptations always run the risk of being a bit over the top—what works for the stage may not click on screen—but the material's in good hands. Take a look at what Clooney has whipped up for us this Fall, when we're all coming off our Transformers-induced adrenaline rushes: