Gerard Butler Catches Waves in 'Chasing Mavericks' Trailer — VIDEO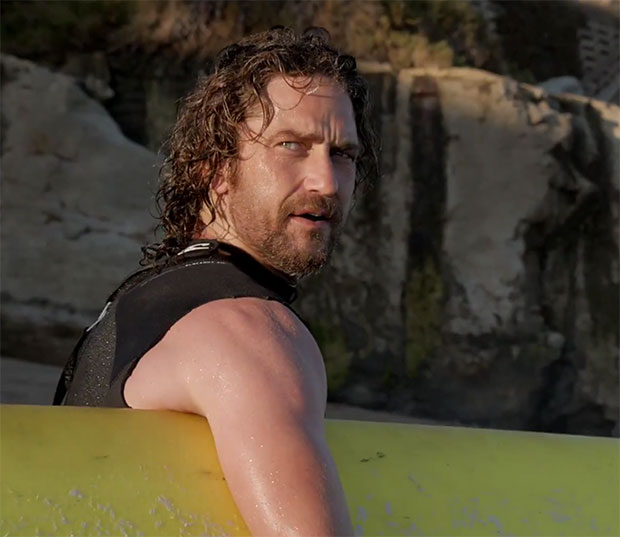 A shaggy-haired Gerard Butler hangs 10 in the new trailer for Blue Crush 3 Chasing Mavericks. 
Chasing Mavericks
tells the true story of Jay Moriarty (played by
Jonny Weston
), a young surfer who becomes know for his attempts to surf Half Moon Bay's Mavericks, a big wave hotspot in Northern California. In the film, Moriarty tracks down Gerard's Frosty Hesson, a grizzly surfing legend, to help him train for the epic task ahead. 
The trailer, which features heart-stopping footage of monster waves (which one can imagine will only be more adrenaline-producing on the big screen), positions the movie as a sort of buddy comedy between the more experienced Butler and newcomer Weston. From the snippets of armchair philosophy and poster-slogan advice the characters exchange in the trailer, however, it seems doubtful that the film will be able to transcend the syrupy sweetness of your standard hero-overcoming-adversity tale. 
Chasing Mavericks, which also stars Elisabeth Shue, Abigail Spencer, and is directed by Curtis Hanson (8 Mile, In Her Shoes, Wonder Boys), opens in theaters October 26, 2012. 
[Photo Credit: 20th Century Fox]