Get a Look at 'True Blood' Star Stephen Moyer Exploring the Devilish Woods in 'The Barrens' Pics
True Blood's Stephen Moyer is stepping into another horror tale, and the first glimpse of his new journey is now available. The Barrens is a story that takes Richard Marlow (Moyer), husband and father, into the woodlands of the Wharton State Pine Barrens in New Jersey. Seems like a fine idea. Get away from the city. Enjoy some quality family time. Have a run-in with the Jersey Devil. Oh, yes. That's what's going on here.
The Jersey Devil has had a notably small amount of cinematic exposure. Sure, 2009's Carny featured the cryptid…but let's be honest: none of us actually saw that. But I guess he (or she) is really for niche audiences—only really interesting to paranormal enthusiasts or people from Jersey's tristate area. But with a rising star like Moyer at the head of this film, maybe ol' JD will finally get his name out there with other, more famous legendary beings, like Sasquatch, and the chupacabra, and Rick Moranis.
Click the below photo to check out more The Barrens pics on Shock Till You Drop.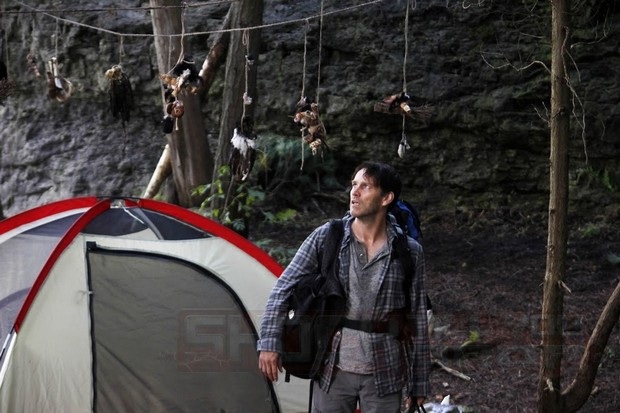 Source: Shock Till You Drop