Review: 'Get on Up' Is Far Livelier and More Flavorful Than Your Average Biopic
Universal Pictures via Everett Collection
A James Brown biography would have no business playing docile. Still, when we hear the word "biopic," we think today of the Rays and Walk the Lines that earned the attention of the Academy and public alike. We expect any musician's story to hold the low notes, no matter how wild and kooky said musician might be — and as such might entail, in the illustration of his life, a connection that Get on Up makes quite effectively.
From the get-go, we're enveloped in the mania that is James Brown. We're invited into an old Mr. Brown's fragmented brain via a particularly chaotic scene involving a shotgun and a penchant for lavatorial exclusivity. Before we can even latch onto the adult Brown in question, we're thrust back a ways into his young adulthood, then his childhood, back again to the dawn of his career, then the peak, revisiting eras and introducing new ones with an unpredictable and consistently engaging rhythm. Not unlike his music, James Brown's story is both irreverent and industrious, barely tiring as it carries past its second hour.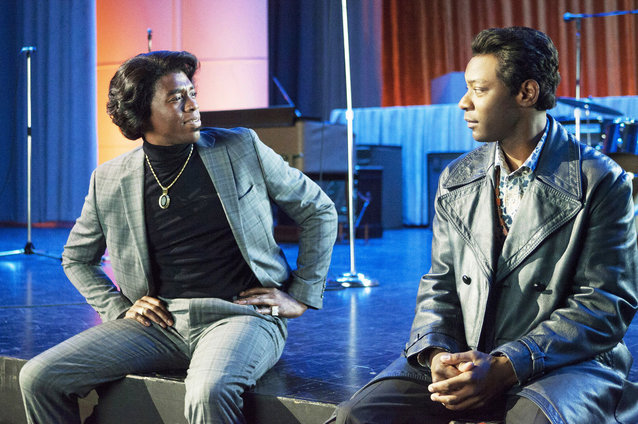 Universal Pictures via Everett Collection
On the contrary: the film is so adherent to its vigor that it can actually be exhausting to watch after a while. We're asked to expend as much energy as Chadwick Boseman pumps into his evolution from a scrappy entertainer to the hardest working man in America, needing a breather around his fourth or fifth stage performance. But if you can make it through the show, you'll be mighty impressed at Boseman's turn as Brown.
In his embodiment of the character — of the flash, of the style, of the grit — Boseman is stellar, though beneath the elaborate linens we see find a great deal for the talented young actor to play with. Beside him is the film's arguable standout: Nelsan Ellis, playing James Brown's best friend, sidekick, and punching bag Bobby Byrd. More a story about the duo's relationship than one about Brown as a star in his own right, Get on Up makes determined magic when we watch the fellas trade compassion, camaraderie, and egos.
Dressed up with visual flares, narrative transgressions, fourth wall demolition, and even a few bits of absurdist humor, Get on Up aims for the lively character that James Brown was known to offer. Even if it might pack too much to hold our attention for such a lengthy runtime — especially with most of its material wading at surface level — just about everything it has to offer is exciting, vivid, and distinctly musical.
3.5/5