Get to Know Shailene Woodley and Theo James from 'Divergent'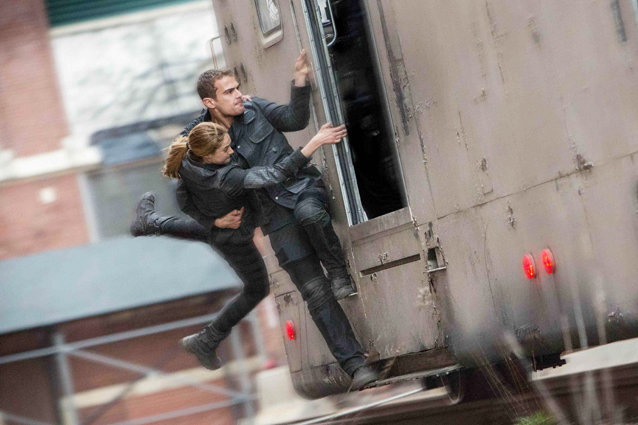 Summit Entertainment
Fans anticipating the upcoming release of Divergent are sure to be curious about the people behind the two main characters of the film. We've scoured the internet, watched countless interviews, and dug for the dirt on Shailene Woodley and Theo James, coming up with some weird, quirky, and lovable facts about the co-stars. 
James is ridiculous and silly — he has claimed he would have been an exotic dancer if he hadn't become an actor and he loves Cheetos. Also, he can beatbox.
Woodley would conquer a zombie apocalypse with business sense: "I would plant tobacco because I think it'd be a good thing to trade with."
They both love Star Wars; Woodley has said she's a "Star Wars freak," while James mentioned he had auditioned for a role in the new franchise: "I went for Stars Wars – the new one – as Chewbacca's son. It's an integral role, so cross your fingers."
At the San Diego Comic-Con Divergent panel, James said he's a bit like his character in that he's protective of Woodley — sometimes a little bit too much: "I don't even let her go to the bathroom, to be honest, without me standing outside the door. It can be problematic but I think I should be there. You know, she needs protecting." (We're pretty sure he's kidding.)
Woodley also seems to adore working with her co-star. She admitted that her favorite thing about James is that "he's super badass and does his own stunts."
Since the final book in Veronica Roth's Divergent trilogy, Allegiant, was due to be released shortly after filming concluded, James attempted to get some spoilers out of the author. "I tried to seduce her with wine and… biscuits, but it didn't work," he said.
When making the decision of whether to star in Divergent or not, Woodley sought the advice of Jennifer Lawrence, who skyrocketed to fame after The Hunger Games premiered. According to Woodley, Lawrence gave some great advice: "She was like, you'd be a fool not to take it. Some things change, don't make a sex tape, don't do drugs, don't go to Whole Foods when the movie opens, but other than that just live your life and have fun."
Divergent hits theaters March 21. You can check showtimes and purchase advanced tickets at Movietickets.com.