'Ghostbusters 3' Shooting Pushed to Fall 2013 — Will It Ever Happen?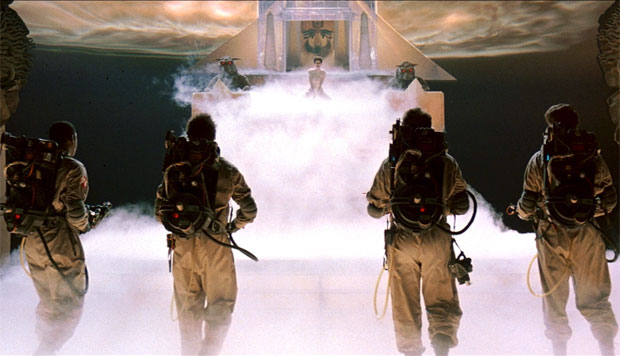 Poor Dan Aykroyd. Sweet, well meaning, Vodka-branding Dan Aykroyd. He's been so gung-ho about bringing a third chapter of the Ghostbusters franchise, but just can't seem to catch a break in this endeavor. And even though Ghostbusters 3 is a product that not a great deal of us are actually looking forward to, it's hard not to feel a little bad for the man. He's given us so much to love — the original Ghostbusters, The Blues Brothers, his Saturday Night Live turn — that can't we just let him have this one? Who's it hurting, really?
The latest update in this unfortunate project is that filming — which was supposed to take way in the summer of 2013 — has now been pushed back to the fall… if the movie is, in fact, still a definite go. The Hollywood Reporter says Sony won't make its final decision on the film until at least March of '13. This after the hiring of Men in Black III scribe Etan Cohen and the series' returning director Ivan Reitman.
The setbacks facing Aykroyd's passion project have been plentiful. Plans in summer of 2011 slated shooting for early 2012, but script rewrites and production pushback have thus far delayed the inception of filming indefinitely.
The most public conflict with which Ghostbusters 3 has dealt, however, are the alleged defamatory remarks made by the original Ghostbusters star Bill Murray. It is a certainty that Murray won't be involved with the developing threequel, but some less concrete rumors have linked Murray to acts like shredding the script as a display of his disapproval. Aykroyd has denied the veracity of these stories, however.
So it won't be until the beginning of next spring (the earliest) that we find out for sure if Ghostbusters 3 is actually going to take form. And if the project does come to fruition, it won't be until the beginning of next fall (the very earliest) that the movie actually begins its process of filming. After that, who knows what other delays will face this cursed production. Poor Dan Aykroyd.
[Photo Credit: Columbia Pictures]
More:
'Django' Star Christoph Waltz Headlines 'Muppets' International Sequel
'Oz the Great and Powerful' is Not Your Grandma's Land of Oz — POSTER
Trick AND Treat: The Biggest Comedy Movie Mistakes
From Our Partners: