'G.I. Joe 3' In the Works, Will Be Even Americaner!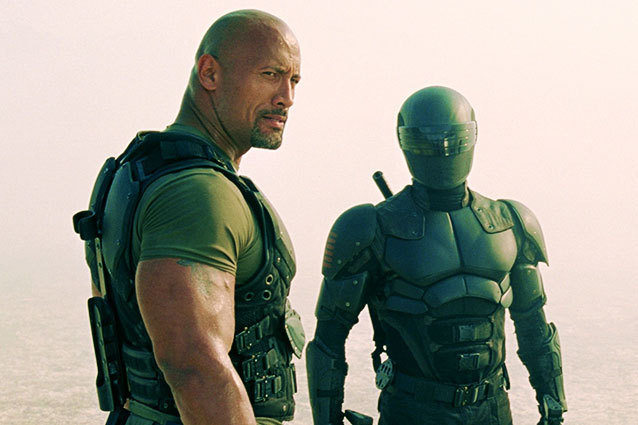 After its flag-wavin', tank-drivin', grenade-launchin', sword-wieldin', president-clonin', snarky-quippin' blockbuster G.I. Joe: retaliation debuted to an impressive international intake of $132 million, Paramount seems to be pretty keen on the camo-wearin', head-shavin', gun-totin' franchise. So much so, in fact, that it already looks to be lining up another entry: Variety reports that a third G.I. Joe movie is in the works. Much like the aesthetically dazzling Retaliation, the third military epic will be in 3D.
RELATED: 'G.I. Joe: Retaliation' Review: The Rock Ignites the Franchise
Retaliation, stocked with audience-drawing cast members like Bruce Willis, Dwayne Johnson, and Channing Tatum, beat out its higher-budget predecessor, G.I. Joe: Rise of the Cobra, which lacked Willis and predated the days of Tatum fame. No word yet on whether or not Paramount, and its co-producers MGM and Skydance, will expand the team further — what other well-sculpted big names can they add to the cast for Three-I Joe?
Follow Michael Arbeiter on Twitter @MichaelArbeiter
[Photo Credit: Paramount Pictures]
---
You Might Also Like:


15 Oscar-Winning Nude Scenes


10 Insane 'Star Wars' Moments You Didn't Notice