Gina Gershon Says 'Killer Joe' Will Make Your Family Seem Perfect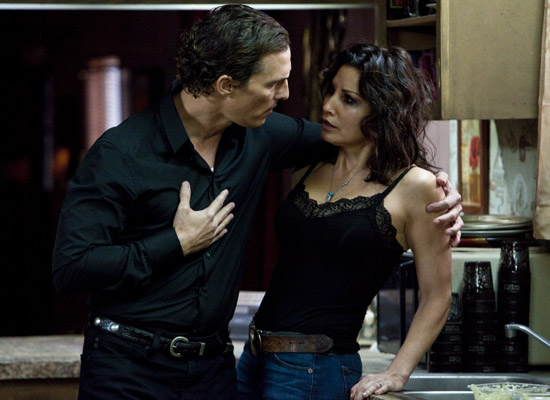 Earlier this week, the guys of Killer Joe talked first impressions, audience expectations and chicken. Now it's time for the women to share their thoughts on the twistedly dark drama.
Hollywood.com sat down with leading ladies Juno Temple and Gina Gershon last week in Los Angeles to get the inside look at why these girly girls wanted to get down and dirty in Killer Joe.
"I wanted to be a part of it the moment I read it," Temple gushes. "As a young actress, being sent a role like Dottie, for that specific age group, is so rare and extraordinary. She's got so many levels of emotions. There is so much she is not saying, and I think that's so interesting."
The 23-year-old English actress — who in the film plays a young virginal girl whose older brother (Emile Hirsch) offers her up as collateral to a hit man hired to kill their mother — helped shed some light on her character's surprisingly complex personality. "People might say that she is simple, but I don't think she is simple. I think she is holding onto her childhood desperately, because she is living in her fantasy world with the fairies and her dolls. She doesn't want to be in the living room of that trailer."
Temple continues: "But she is more aware than all of them, because she is listening to everything. She is digesting it, she is swallowing it, and she is bottling it up. So she is aware, but it is her choice as to when she is going to tap into that."
Temple insists it's her family's negligence that caused Dottie to fall for the deranged love interest of the movie: undercover killer, Joe Cooper (Matthew McConaughey). She says, "They treat her like a child, then Killer Joe comes along and for the first time she is treated like a woman. And it's magical. The way he looks at her, the way he speaks to her, the way he respects her… to her, he is her Prince Charming." A Prince Charming who kills people for money? Better hope that glass slipper doubles as a weapon, honey!
While Temple is enamored over a first love, Gershon shines in the movie as the lady-of-the-trailer and wonderfully wicked stepmother Sharla. Gershon, like Temple, was instantly excited to take part in the film. She says with a laugh, "I thought it was time I did a nice family movie. You watch this movie, and they are so dysfunctional, you can feel good about your own family." So true.
Although Tracy Letts' stage version of Killer Joe has been highly acclaimed for years, Gershon explains that director William Friedkin was the only clear choice to bring this movie to the big screen. "Tracy is such an amazing writer. He writes incredibly complex characters. Their motivations are very clear, but nothing is obvious," Gershon explains. "If Joe Schmoe were directing this, I probably would have been worried about some of the scenes, but with William Friedkin directing, and this cast, it was really a no-brainer."
One of the scenes Gershon was concerned with was the climactic kitchen altercation at the end of the film. Gershon was thrilled for Freidkin's fast-paced directing style. The 50-year-old actress says, "For that particular scene, I didn't want to overanalyze it and frankly, I didn't want to think about it. It's the one time when she is really out of control, so I just said, 'I don't want to rehearse it, I don't want to talk about it, just tell me where you want me and what the movement is, and let's just do it.'"
Gershon admits she was once offered the on-stage role of Sharla and although she loved the script, she had one huge and understandable concern: "When I got to that last scene I thought, 'Oh my God. There is no way I am going to do this scene eight shows a week for six months straight.'"
After shooting the physically and emotionally draining scene, Gershon recalls, "I took the longest bath ever after that day. I can't say I was sad to let Sharla go at the end of that move." Sheesh, we don't blame you!
You can catch Killer Joe in theaters now.
Follow Leanne on Twitter @LeanneAguilera
[Photo Credit: LD Entertainment]
MORE:
Matthew McConaughey Talks 'Killer Joe' First Impressions: "I Was Disgusted"
Gina Gershon suffered poisoning while filming Killer Joe