'Glee' Star Chris Colfer Is Electric in 'Struck By Lightning' — TRAILER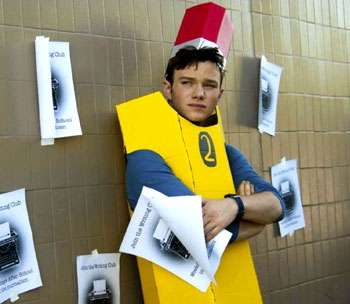 Some movies boast that they have an "all-star" cast, but trust us this movie actually does — if you're a TV fan at least. Glee's Chris Colfer stars in Struck By Lightning, a coming of age comedy that he also wrote and executive produced. Tribeca Film has just released a brand-new trailer for the limited released film featuring Mad Men's Christina Hendricks and Dermot Mulroney (My Best Friend's Wedding).
Struck By Lightning centers on Carson (Colfer) an over-achieving high schooler whose hopes of becoming a successful journalist inspires him to blackmail some of his more popular classmates. With the help of his best friend—played by the always-hilarious Rebel Wilson—Carson hoodwinks students from all different cliques to help him compose a literary magazine that he can submit with his college application to Northwestern University.
Check out the full trailer below to see Sarah Hyland (Modern Family), Angela Kinsey (The Office), Ashley Rickards (Awkward), and many more familiar faces starring alongside Emmy-nominated Colfer in Struck By Lightning.
Struck By Lightning will be available in over 40 million homes nationwide when it debuts on VOD outlets (iTunes, Cable, Amazon, VUDU) on Dec. 19 and fans can catch the clever flick in select theaters beginning Jan. 11, 2013.
Follow Leanne on Twitter @LeanneAguilera
[Photo Credit: Tribeca Film]
MORE:
'Glee' Recap: Which Couples Are Still Standing After "The Break Up"?
Pitch Perfect: Why 'Glee' Fans Should Give It a Chance
Watch Sarah Jessica Parker Give Kurt on 'Glee' a Job He Doesn't Deserve