Jane Lynch to Make Her Broadway Debut in 'Annie': Next Stop, the Movie?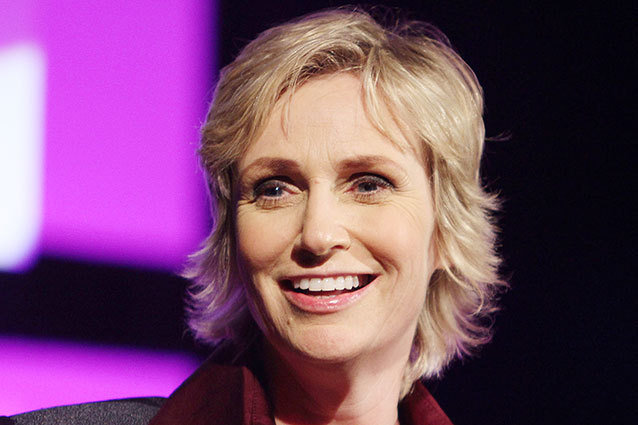 Jane Lynch knows a thing or two about playing tyrannical women. The Emmy award-winning actress stars on Glee as ruthless cheerleading coach Sue Sylvester, who isn't known for her calm demeanor when it comes to her students. Now she will take on another domineering role as evil orphanage matron Miss Hannigan in the new Broadway production of Annie.
"Some may say I know a thing or two about playing intimidating authority figures," Lynch says.  "So I am excited and honored to be making my Broadway debut with the wonderful Annie company at the Palace Theatre and joining the pantheon of women who have taken on the great and irresistible role of wicked Miss Hannigan." 
Lynch will make her Broadway debut at the Palace Theatre for eight weeks only, from Thursday, May 16 through Sunday, July 14. Two-time Tony Award-winning actress Katie Finneran, who created the role of Miss Hannigan in the new production of Annie, will depart the production at a date to be announced, in order to begin filming a new NBC comedy series with Michael J. Fox.
RELATED: 'Beasts' Star Quvenzhane Wallis To Play Annie In Upcoming Remake?
While we have no doubt Lynch will embody the tough, authoritatively cruel character well on the Broadway stage, might this indicate a possible role for her in the upcoming film version of Annie? It would certainly be the perfect segue, and she would already have the part down pat after weeks of playing the role. But would she fit the tone of the movie? 
Produced by Will Smith and with rapper Jay-Z attached to set the score, Beasts of the Southern Wild breakout star Quvenzhane Wallis is in talks to play the title role left vacant when Smith's daughter Willow Smith dropped out. Since this reboot is already taking on quite a different feel from its original incarnation, while Lynch may be perfect for the stage version, she might not be the best person for the film. Do you think she should take on the role of Miss Hannigan in the upcoming movie as well as the Broadway stage? If not Lynch, then who should play her in the movie? Hit the comments with your thoughts below!
Follow Sydney on Twitter: @SydneyBucksbaum
[Photo Credit: FayesVision/Wenn]