'Go the F**k to Sleep': An R-Rated Kids Movie?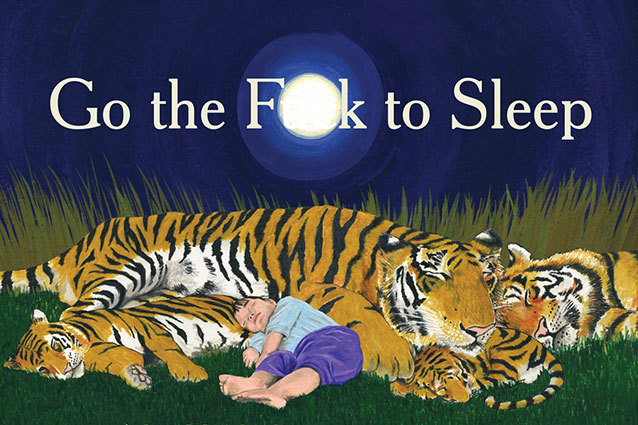 Author/exhausted father Adam Mansbach's wildly popular 2011 children's book for parents Go the F**k to Sleep is getting the big screen treatment. Now, if visions of disappointing movies like He's just Not That Into You or TV shows S**t My Dad Says — which both took clever, of-the-moment, albeit one-note ideas and effectively made them less so — just danced in your head, you can rest a little easier.
Hollywood.com confirms that actor/writer/all-around hilarious human being Ken Marino (of Children's Hospital, Party Down, Veronica Mars, Wet Hot American Summer, and Role Models fame) and his wife Erica Oyama are adapting the delightfully foul-mouthed illustrated book for Fox 2000. 
While interpretations of the best-selling book seemed like it hit a fever pitch back in 2012 when Samuel L. Jackson, the man who can turn any bad word into an art form, did the audio narration for it. After all, no one could make lines like "I know you're not thirsty. That's bulls**t. Stop lying. Lie the f**k down, my darling, and sleep" sound better than the Pulp Fiction star could. 
Still, if anyone can revive the hilarious, but somewhat controversial book from its slumber, it's Marino and Oyama. Look no further than E!'s criminally underrated, but bitingly funny reality dating show parody Burning Love, which they both write and star in. Now, here's a series that in theory should only work as, say, an SNL sketch, but instead of being just funny in concept, has pitch-perfect comedy execution. 
Better yet, Marino and Oyama are in a tight-knit comedy circle in Hollywood that includes the likes of Paul Rudd, Adam Scott, David Wain, Megan Mullally, Malin Akerman, June Diane Raphael, and Michael Ian Black, just to name a few. So while no casting announcements for the Go the F**k to Sleep movie have been announced, it's a pretty safe bet that a few familiar faces could pop up to tell unruly kids to, well, you know. 
Another safe assumption is that Marino and Oyama probably won't take the Spike Jonze approach of what he did with another short, but beloved book with his adaptation of Where the Wild Things Are.  Instead, here are some ways we could imagine the couple tackling the already-funny source material:
An all-star romantic comedy parody: Have a huge ensemble comedy like What To Expect When You're Expecting  about a group of new parents and their terrible children and then skewer the hell out of an ensemble comedy like What To Expect When You're Expecting.

An all-star absurd comedy: Almost the same as above, but instead of doing a self-aware parody, just balls-out comedy nonsense on par with Wet Hot American Summer. 
Keep it animated: There aren't nearly enough PG-13 or R-rated animated movies anymore. (What the hell is this generations Bebe's Kids?!) There's a reason why shows like Archer and South Park (which, admittedly, made for the best R-rated animated movie of all-time) are so f**king popular. 
More: 
The 'Veronica Mars' Movie: Why the Charcter's Return is a Big Deal  
'Burning Love' Reminds You That Your Love Life Could Be a Lot Worse — VIDEO 
How the 'Children's Hospital' Emmy Boosts the 'Incestuous' Short-Form Comedy World 
---
From Our Partners:


Eva Longoria Bikinis on Spring Break (Celebuzz)


33 Child Stars: Where Are They Now? (Celebuzz)