Going to 'Graceland': Who (Else) Should Play Elvis On the Big Screen?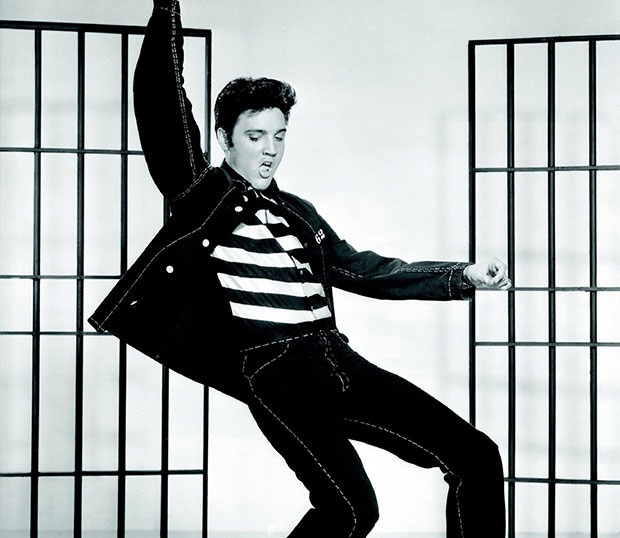 Here's a (hunka hunka) burnin' question. Now that, according to Variety, production company BiteSize Entertainment will adapt David E. Stanley and David Gruder's book about Elvis Presley called Conversations With the King: Journals of a Young Apprentice for the big screen, who should play the legendary, beloved rocker? 
The film, titled Growing Up Graceland, will reportedly "be based on Stanley's 'spiritual journey' with Presley, his stepbrother" and "will also deal with Presley's spiritual search for meaning during the years before his death in 1977," meaning the movie will run the gamut from younger, pelvis-y Elvis, to the latter day, significantly less pelvis-y Elvis. 
Of course, the huge task of playing The King has been attempted on film before (Tyler Hilton was impressive as a young Elvis in the Oscar-winning Johnny Cash biopic Walk the Line, as well as Jonathan Rhys Meyers in the TV movie Elvis, and of course, Bruce Campbell in Bubba Ho Tep) but there's never really been an "Elvis movie," let alone two…
In addition to Growing Up Graceland, there will be Elvis & Nixon, Cary Elwes' directorial debut, which will feature Eric Bana as the "Jailhouse Rock" crooner for the upcoming film. So who else would be able to pull off playing one of the most iconic and beloved entertainment figures in history? 
As far as the versatility goes (and willingness to throw on old man makeup and a fat suit) Leonardo DiCaprio would likely be game, as would James Franco (who knows a thing or two about playing a Hollywood icon when he memorably played James Dean). Presley superfan Nicolas Cage would jump at the chance to play Elvis again (after all, he literally jumped at the chance in Honeymoon in Vegas) while Tom Everett Scott has already proven he can play music and act. (See: That Thing You Do! No, really. Why aren't you watching it right now?) 
Lest we all forget, Zac Efron, did a pretty good job of playing a coif-rocking, hip-thrusting teen '60s heartthrob, too, in Hairspray. And much like Scott and Efron, Darren Criss, could pull off the singing, dancing and acting triple threat. But who do you think could possibly step into Elvis' shoes? Take our poll below and tell us in the comments section.<a href="http://polldaddy.com/poll/6497419/">Who (else) should play Elvis Presley?</a> 
[Photo credit: WENN.com] 
More: