Golden Globes 2013: The Raunchiest Supporting Actress Race Ever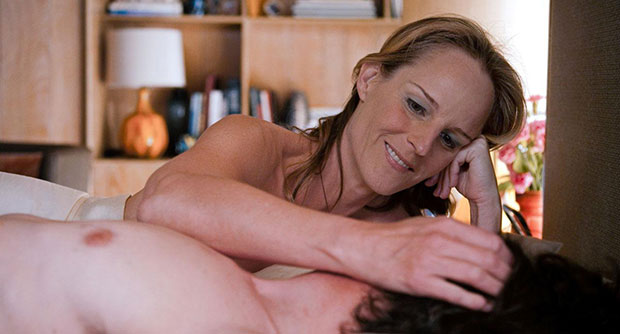 Although they come before the Oscars and are often pegged as the predictors for the prestigious ceremony, the Golden Globes are really good at one thing: raising eyebrows. With picks all over the critical spectrum, the Hollywood Foreign Press Association usually sets their sites on celebrities and votes accordingly, resulting in a mismatch of a year in film.
Thankfully, the Globes' "best of" picks for 2012 gave us few heart palpitations, instead playing it safe and making us hyperaware of the trends that connect this year's frontrunners. With Zero Dark Thirty, Django Unchained, and Lincoln topping the nominations, there's a focus on America and its turbulent history. The Comedy/Musical Best Pictures are like a feel-good reaction to the dark Dramas; this list of romance-infused films includes The Best Exotic Marigold Hotel, Silver Linings Playbook, and Salmon Fishing in the Yemen earning top honors.
The broad ideas speak to the pop culture zeitgeist, and only after digging deeper do you find an undercurrent that seems subconscious. Look at the Supporting Actress categories: Amy Adams for The Master, Sally Field for Lincoln, Anne Hathaway for Les Misérables, Helen Hunt for The Sessions, and Nicole Kidman for The Paperboy. All terrific performances by women who have established themselves as some of the best in the business.
But look closer and you see a quintet of roles that are founded on sexuality. Adams' Peggy pleasures her menacing husband (Philip Seymour Hoffman) in a rather disturbing power play; Hathaway's Fantine sells her body for sex in order to make a buck; Helen Hunt's character in The Sessions is a sex surrogate for the paraplegic; and Nicole Kidman has earned raves for embracing carnal instincts and turning her character Charlotte into a sex-crazed maniac. The outlier is Sally Field as Mary Todd Lincoln — but anyone who caught the film knows that the actress shows quite a bit of skin for a woman in 1864. Okay, it's a stretch, but throw in Meryl Streep's surprise Best Actress nomination for Hope Springs (where the Oscar-winner can be seen simulating a sex act in a movie theater) and you see a demand from today's actresses that isn't part of the actor counterparts repertoire.
Sexual thirst plays a big thematic part to the aforementioned films, but it's hard to ignore the old mantra "sex sells," which apparently goes for the Golden Globe nomination process too. Raunchy roles are seen daring roles. Filmmakers know the value of a sultry scene and how unexpected it can be to see a woman embracing her sexuality (blame that on the weird gender bias that continues to persist through pop culture). The necessity for women in Hollywood to put themselves out there in a sexual way is even more evident when compared to the Supporting Actor field. Whether its a strong comedic performance or a piercing dialogue with the lead actor, the men seem to be qualified less for risk-taking and more on getting away with bigger performances. Flashy in a way that doesn't show skin.
The actresses up for Supporting Actress Golden Globes didn't earn their nominations for entering risque territory — but the trend doesn't feel like coincidence either. For once, we're not confused by the random Golden Globes picks, but rather the all too obvious ones demanded by Hollywood.
Follow Matt Patches on Twitter @misterpatches
[Photo Credit: Fox Searchlight]
More:
Jessica Chastain, Anne Hathaway & More React to Golden Globe Nominations!
Golden Globes 2013 Movie Snubs: Where Is Matthew McConaughey?
First Golden Globes Promo: Watch Tina Fey and Amy Poehler Prove They'll Be Great

'The Hobbit' Cast: A Who's Who New Character Guide (Moviefone)