Golden Globes 2013: Why You Can't Compare 'Zero Dark Thirty' to 'Homeland'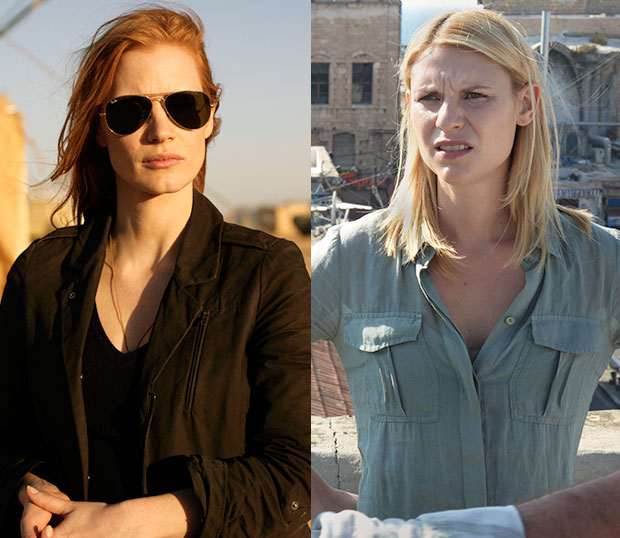 This Sunday at the Golden Globes, two of the most talked-about, critically-lauded pieces of entertainment from 2012 are up for the night's Best Drama categories — one in film, the other on television. They are both controversial, divisive, and "must-see" entries to their respective media; awards season has adorned each with frontrunner status. They have both tapped into a post-9/11 psyche, a subject matter that has taken over a decade to successfully breach the entertainment industry. Perhaps even more interestingly, both of them follow the compelling story of a determined female CIA operative who will stop at absolutely nothing to capture a dangerous, sought-after terrorist.
On paper, Zero Dark Thirty and Homeland are shockingly similar. On paper. How it all plays out on screen, however, is a different story entirely. When Showtime's Emmy-winning series Homeland premiered in 2011, it rapidly earned a dedicated fan base that became utterly enraptured in the inner-workings of troubled CIA agent Carrie Mathison (the undeniably great Claire Danes) and her all-consuming obsession with capturing fictitious terrorist Abu Nazir, as well as getting to the bottom of the true intentions of Nicholas Brody (Damian Lewis) — an American POW-turned-domestic-terrorist.
Engrossing though it may be, there is an inherent flaw in the show, keeping Homeland from being a true genre great (like its big screen company, Zero Dark Thirty). In Homeland's opening credits, there are heart-sinking flashbacks to and mentions of real world history terrorism catastrophes, including the events of Sept. 11. Danes' Carrie is haunted by those terrible moments, but for reasons quite unlike the way the rest of us are: she feels responsible. Throughout Season 1, these themes made for compelling, exciting television, to say the least.
But something strange happened during Homeland's Season 2. Our heroine changed from someone we believed in to someone we could no longer even stomach (with antics like having an affair with a known terrorist, and putting her life and the lives of others in danger for purely selfish reasons). The lens of the show relocated from a look inside the depths of the CIA's terrorism division to a shock-factor, cliffhanger-laden action adventure whodunnit.
Kathryn Bigelow's important Zero Dark Thirty, however, is the antithesis of these problems. The structural differences are obvious: it is a two-and-a-half-hour film instead of an entire television series; it focuses on one specific manhunt (that of al Qaeda leader Osama bin Laden). But these details aside, ZDT differs strongly from Homeland by sticking diligently to the task at hand, all the while remaining a smart, intense, and entertaining ensemble thriller.
Unlike Danes' self-destructive Carrie, ZDT's unblinking, laser-focused CIA operative Maya (played to understated perfection by Jessica Chastain) isn't made "more interesting" by having a risky affair (screenwriter Mark Boal wisely opted to keep Chastain's Maya and costar Jason Clarke's Dan platonic friends), or letting emotions get in the way of her job. She has one goal, and it's a damn important one. While some may viewers may form a closer connection to Carrie than to Maya, Maya still has plenty of very human, very raw moments, as well. Complaints have surfaced that audiences don't get to know enough about Maya to connect with her vividly, but I actually think that makes the character, and the film itself, far more effective. As Maya herself would have no time for a social life, what with her mission being her life, nor should we be offered such a luxury.
Homeland has put Carrie face-to-face with the central villain numerous times, including placing her court side for his death at the hand of a SWAT team. ZDT, though, does restrict its ultimate victory's credit only to Maya, but extends the decree of heroism to all the moving pieces it took to get to Seal Team Six to the point of bin Laden's execution. It's all the forces at work, all the frustrating road blocks and red tape. The film examines the biting injustice of how one person can do so much work and have to forego any sort of glory. Homeland only scratches the surface of this palpable theme week after week, but ZDT managed to capture that all in one film.
Compared to the Showtime series, ZDT may feel colder and more procedural. Still, the importance of its story is never unclear. Even more impressively is the movie's ability to maintain composition as a nail-biting and anxiety-riddled thriller, even with its audiences fully aware of how the movie will end. (The raid scene alone is perhaps the most thrilling piece of entertainment in all of 2012, aside from maybe Argo.) I'm not saying I won't continue to tune into Homeland when it returns next season (even its biggest detractors are still intrigued by it) but after seeing the urgent and deadly serious ZDT, I don't think i'll be able to watch it quite the same way. I'll have to appreciate it for its surface level entertainment and great performances, but anything deeper than that will simply pale in comparison. 
Is it unfair to compare a television series to a movie? Perhaps, in some respects, as both media of entertainment rarely align in quite this fashion. But to say that a television series can't convey the same important message that a movie can is a disservice to great television. To claim that TV can't tell a true story, or at least one based on reality, without getting tripped up in ridiculous subplots (Dana's Season 2 hit-and-run comes to mind) or filler characters (there is nary a one in
ZDT
) is to deny television its divine right. When TV fails at these tasks, it's not doing its job. And if there's something you can take away from the hard-to-watch, but necessary 
ZDT
, it's that if you're going to do your job, you'd better take it very seriously, and do it the absolute best you can.
[Photo credits: Columbia Pictures; Showtime]
More:
'Homeland' Twist: TV's Best (and Worst) Game Changers
'Zero Dark Thirty' Star Jessica Chastain, So Dedicated She 'Will Forget to Eat'
'Zero Dark Thirty' Investigation Continues: Is Your Curiosity Piqued?

Megan Fox's 12 Hottest Moments (Moviefone)

Ryan Gosling's 'Airbrushed' Abs: Plus 19 More Reasons We Love the Actor (Moviefone)