Gomez, Hudgens, and Benson Sell 'Spring Breakers' with Skin — POSTERS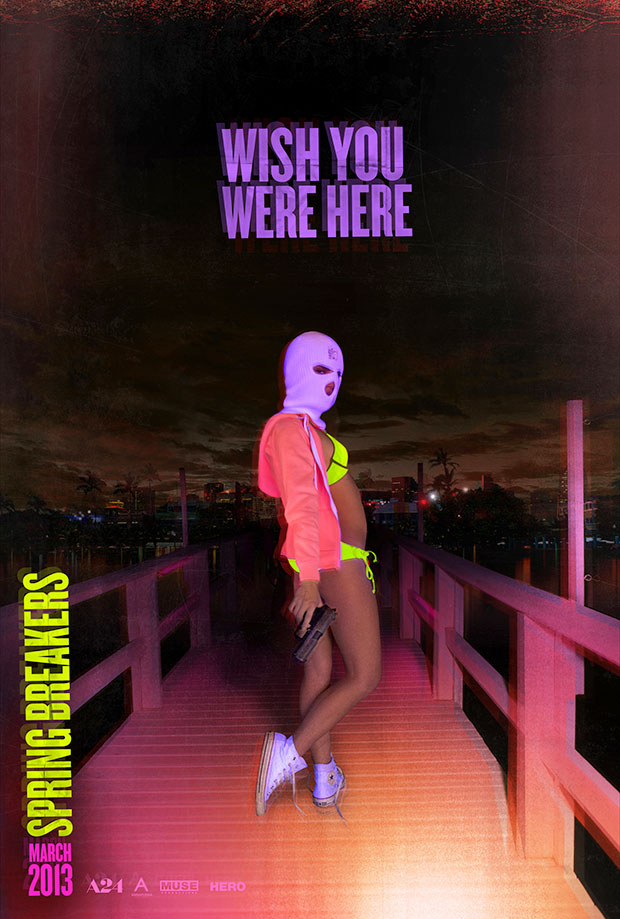 Earlier this week, Spring Breakers star Ashley Benson appeared on Rachael Ray's talk show Rachael to promote the Winter season of her ABC Family show Pretty Little Liars. Ray's audience was giddy to hear the young actress tease details from the scandalous-but-not-really-that-scandalous teen soap, and Benson was happy to oblige. To cap the interview, Ray told Benson how excited she was for her new "spring break movie" that also stars James Franco, Selena Gomez, and Vanessa Hudgens. When asked if it was going to be a fun time at the movies, Benson was… left a bit speechless. The audience was visibly excited by the prospect of the ensemble and setup. Benson smiled and changed the subject.
For Benson, Hudgens, and Gomez, Spring Breakers is certainly a departure into more adult material, but not in the way you'd expect from a set of teen stars (which may explain why Benson was hesitant to say too much in the squeaky clean interview). The movie isn't your typical raunchy spring break comedy — director Harmony Korine has twisted the subgenere into what will easily be one of the most subversive, startling, and bizarre pictures of the year. We caught the movie at the Toronto Film Festival last Fall and it blew us away. Yes, the movie follows four girls ready to throw on their bikinis for a wet and wild time in Miami, but Korine steers the dream vacation straight to hell, with cornrowed, gun-wielding gangster Franco playing the film's proverbial Satan. Who sings Britney Spears covers. A little different than an MTV beach party, no?
To start mesmerizing you with its demented events to come, the people behind Spring Breakers have released two new posters featuring Benson and the rest of the cast. It may not be the movie Rachael Ray was hoping for (and really, why is she so excited by Benson starring in a run-of-the-mill spring break comedy?), but you will not want to miss Spring Breakers when it struts into theaters this March.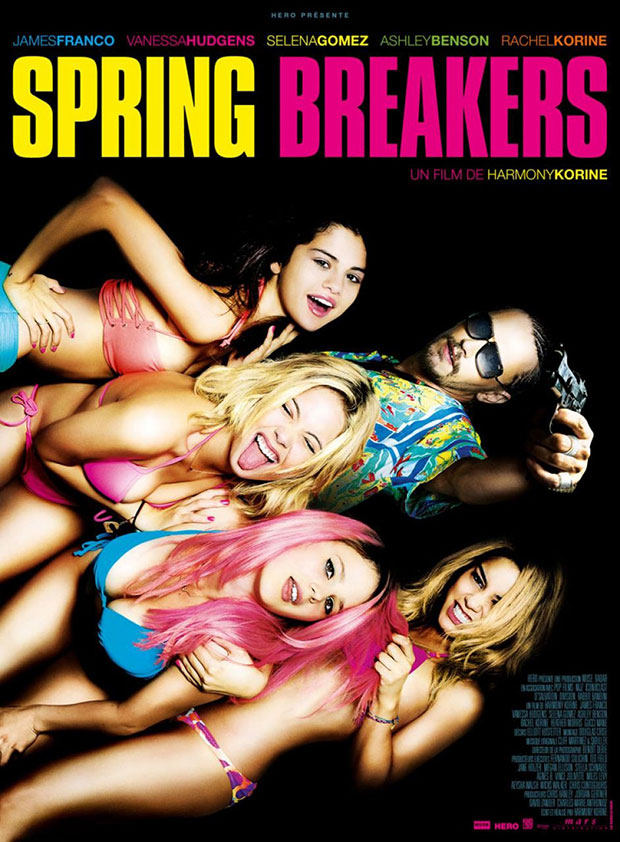 Follow Matt Patches on Twitter @misterpatches
[Photo Credit: A24 (2)]
More:
TIFF 2012: 'Spring Breakers' Marks the End of Selena Gomez's Innocent Era
Selena Gomez, Vanessa Hudgens, Bikinis and Scooters on 'Spring Breakers' Set — PIC
Spring Breakers': The Movie About Selena Gomez & Vanessa Hudgens in Bikinis — PICS

Megan Fox's 12 Hottest Moments (Moviefone)

Ryan Gosling's 'Airbrushed' Abs: Plus 19 More Reasons We Love the Actor (Moviefone)