'Good Day to Die Hard': A Game of Cowboys vs. Russian Baddies — TRAILER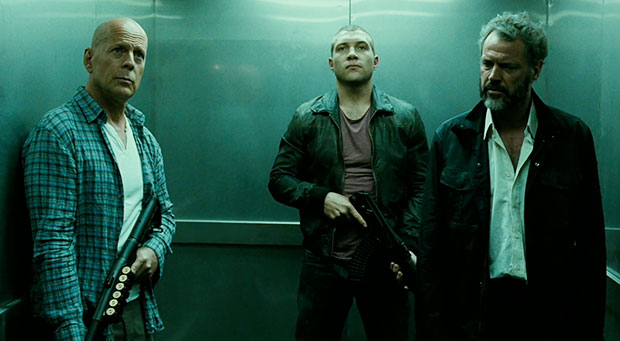 Listen up, die hard Die Hard fans, A Good Day to Die Hard is coming to a theater near you, and it's doing so in explosive fashion.
Fans of the original Bruce Willis action film, in which John McClane's biggest stunts involved fast thinking and fearlessness, have taken issue with the latest installments of the franchise, especially Live Free or Die Hard which saw McClane taking down a military helicopter single-handedly. And if this new trailer for the blockbuster action flick is any indication, McClane's ride is even wilder this time around.
We were introduced to McClane's badass offspring Jack (Jai Courtney) in the last teaser clip, and now, with the full-length trailer, we're taken on a ride in Jack's realm, far outside the good ol' American terrain of McClane's glory days to Russia where Jack is working as a CIA operative. It's good ol' ass-kicking meets the Russian spy game, and while it's probably not what Die Hard fans are looking for, it's certainly makes a rousing case in just two and a half minutes.
A Good Day to Die Hard sweeps into theaters in time to romance audiences everywhere on Feb. 14.
Follow Kelsea on Twitter @KelseaStahler
[Photo Credit: 20th Century Fox]
More:
'A Good Day to Die Hard': Bruce Willis Is Not the Hugging-Type — TRAILER
'A Good Day to Die Hard': John McClane is the 007 of Plainfield, NJ — TRAILER
Samuel L. Jackson Tells Reporter to Use N-Word: Is This Good for Publicity?

Jessica Alba Bikinis in Cabo — Hot Pics! (Celebuzz)