America Elects 'A Good Day to Die Hard' on President's Weekend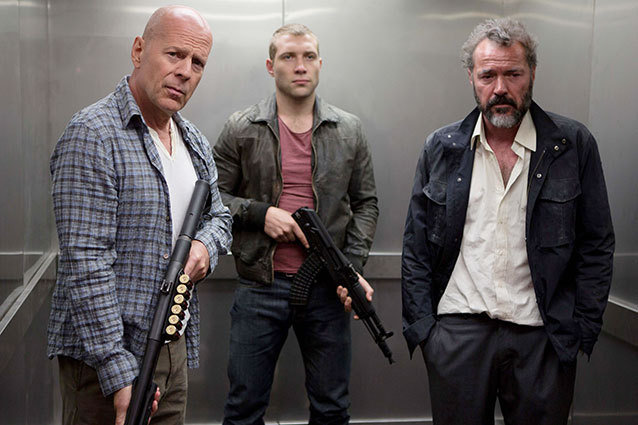 Bruce Willis reprised his role as the irascible, tenacious John McClane in the fifth installment of Twentieth Century Fox's Die Hard franchise, A Good Day to Die Hard in IMAX this President's weekend.  Opening as perfect counter-programming on Valentine's Day, the R-rated action broke the losing streak that films of the genre have experienced of late.  And with $33,239,00 since it opened on Thursday, it has taken out the romantic competition. Audiences found excitement in the premise of the film, which teams McClane with his grown son Jack (Jai Courtney) and the use of Russia as a backdrop.  Built-in brand recognition for both the franchise (with over $1.1 billion in WW revenue) and the McClane character ensured that this film "Yippee-ki-yay-ed" itself to the top of the box office chart this weekend.
RELATED: 'Identity Theft' Steals Box Office
Of course, no Valentine's weekend would be complete without a little love from Nicholas Sparks, whose Safe Haven from Relativity Media made its debut appropriately on Valentine's Day with just over $30 million for the four days. Starring the impossibly good-looking Julianne Hough & Josh Duhamel, the film is elevated above the standard for this genre by solid direction from Lasse Halstrom (The Cider House Rules, What's Eating Gilbert Grape) and an intriguing premise. The PG-13 film couldn't, however, best the raunchy comedy Identity Thief this Valentine's Day weekend.
After a much better than expected $34.5 million debut last weekend, Identity Thief was represented well in the box office mix with newly crowned comedy star Melissa McCarthy and her co-star Jason Bateman, who offered a major challenge to the newcomers this weekend.  The R-rated comedy enjoyed a $23.4 million Friday through Sunday gross, placing it at number two with a cumulative gross of $70.7 million by the end of the weekend.
RELATED: What Makes a 'Die Hard' Movie a 'Die Hard' Movie?
In an effort not leave kids and families out of the President's Day/Valentine's equation, The Weinstein Co. delivered Escape From Planet Earth in 3-D.  The PG-rated animated film features the voices of Brendan Fraser, Sarah Jessica Parker, Jessica Alba and William Shatner and drew a respectable $16 million over the long weekend.
There is yet another Valentine's Day release: Warner Bros. presented Beautiful Creatures, a PG-13 fantasy romance that melds an older and younger cast (à la The Hunger Games) into a mythological love story that will also draw a solid audience of romance-seeking couples this weekend.  The film boasts a solid cast including Jeremy Irons, Viola Davis, Emmy Rossum and Emma Thompson, yet it only broke $7.4 million for the long weekend.
Filling out the rest of the chart, Summit Entertainment's Warm Bodies remained a top draw pulling in $9 million along with Open Road's Side Effects with $6.3 million and Oscar contenders Silver Lining Playbook from The Weinstein Co. with $6 million,  Zero Dark Thirty from Sony with $3.1 million, and Paramount's Hansel & Gretel at just under $3.5 million in what should prove to be one of the better performing President's weekend holiday frames on record.
[Photo Credit: Frank Masi/20th Century Fox]
---
From Our Partners:

Kate Upton Bares All in Nothing But Body Paint: Video (Celebuzz)

Bradley Cooper Dancing Is Surprisingly Awkward (Vh1)