SXSW: 'Good Vibrations' Is a Heartfelt Ode to the Power of Music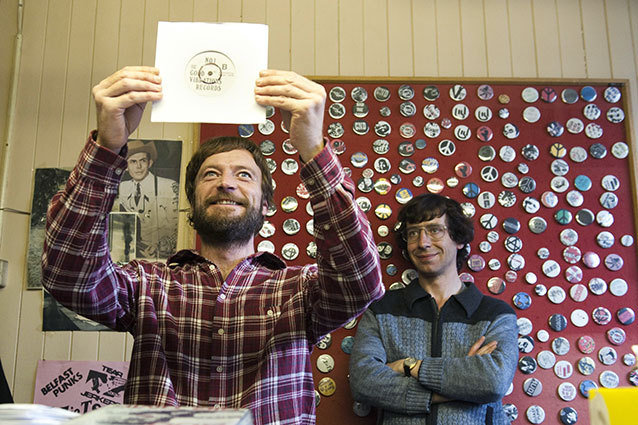 The music portion of SXSW has kicked off down in Austin and there are two movies playing right now (Sound City and Good Vibrations) that are a testament to not only the power of music, but an ode to old-fashioned music making. That before computers and dubstep, there was music not only made organically, but with a social purpose. Dave Grohl's documentary Sound City chronicles the rocker's acquisition of a custom-built, analog mixing console and the jam sessions that occur after he invites fellow music legends to rock out with him at the iconic studio of the same name.
RELATED: SXSW 2013: Our 5 Must-See Movies
While the soundtrack to Sound City should be, well, music to anyone's ears with a bit of technical stuff to appeal primarily to hardcore musicians, the rollicking and surprisingly sweet biopic Good Vibrations hits all the right notes for movie and music fans alike. It is, quite frankly, the perfect film for SXSW. 
The film, which made its debut at the festival, tells the unbelievable true story of Terri Hooley, owner of the record shop Good Vibrations and the "godfather of Belfast punk rock." Doesn't sound like its up your alley? Don't know who Terri Hooley is? I promise you, Good Vibrations will not only make you a fan of punk, but you'll want to board the next plane to Northern Ireland to check out the shop yourself. 
RELATED: SXSW: 'Short Term 12' is a Small Movie with a Big Impact
Game of Thrones star Richard Dormer turns in a hilarious, heartfelt performance as Hooley, a man who decides to open a record store in the middle of the Civil War that errupted in the 1960s that divided Northern Ireland, better known as The Troubles. As violence and civil unrest raged on, Hooley unexpectedly tapped into the underground punk scene and started a revolution of his own: a musical one. Hooley would be the man responsible for discovering punk bands like The Undertones and The Outcasts. 
While the charming, likable Hooley is no saint (he puts the music and his bands before his own wife and family), but is  someone that sees no religion, no dollar signs, no hate. He genuinely loves punk music, hearing the power it possesses, and merely wants to share it with everyone else who feels the same.
RELATED: SXSW Review: 'Scenic Route' is the Ultimate Road Trip From Hell
Good Vibrations is not only an important lesson in world history and the devastating effects of The Troubles, but an important lesson in music. What it means to us as a people, how it can be an outlet; how it brings us together in the worst of times, and how music that matters can still be made. His story is one of perseverance when your back is up against the wall, and a reminder to work hard for something you truly believe in and just plain love. Who knew a movie about Belfast punk rock could be so damn inspirational? 
The entire cast does great work, but its Dormer's nuanced performance that makes Good Vibrations one of the must-see films of SXSW and beyond. It's hard to decide what's more surprising about Good Vibrations: Hooley's amazing story itself, or that you'll be crying tears of joy by the time the credits (rock and) roll. 
[Photo credit: SXSW]
---
You Might Also Like:


Topanga's Revealing Lingerie Shoot: Hello '90s!


Stars Who Have Lost Roles For Being Too Hot (Celebuzz)