Gordon-Levitt's Porn-Filled 'Don Jon' Sells for $4 Million at Sundance: Why It's Worth It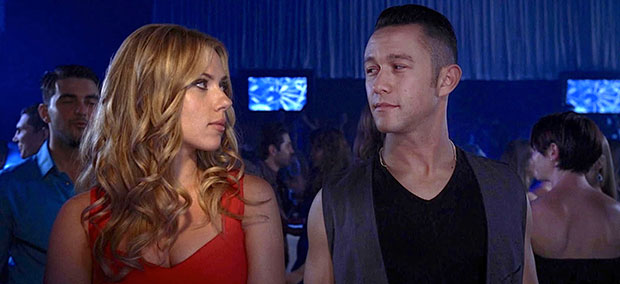 With the first weekend of the Sundance Film Festival behind us, the mecca of independent film segues into phase two: the buying frenzy. While new films will continue to roll out and amass buzz, ones that hit earlier in the week are already being chased by movie studios looking for the next breakout hit. In the first wave of hits, Sundance's big winner is none other than veteran Joseph Gordon-Levitt.
Deadline reports that Gordon-Levitt's directorial debut, Don Jon's Addiction, has been picked up for release by Relativity Media (American Reunion, this weekend's Movie 43) for an unprecedented $4 million, an additional $25 million commitment to marketing the movie, and a promise of 2,000 screen release planned for this summer. That's a lot of dough for a little indie comedy, but Gordon-Levitt's film isn't exactly Little Miss Sunshine. Instead, the Dark Knight Rises actor delivered a raunchy romantic comedy that goes the extra mile to shock.
Gordon-Levitt plays the titular character, a caricature of your Italian by way of Jersey Shore. Every night he hits the clubs looking for "a dime," the stunning lady he can bring home for one night then toss aside in time for the next night's hunt. But even that can't feed Jon's hunger: After bringing a lady home, he routinely sneaks away to engage with his true passion: Internet porn. Gordon-Levitt's script waxes poetic on the joys of the Web's finest pornographic material, Jon spending most of his free time "releasing tension" to an array of creative moves. As a director, he doesn't shy away from the graphic nature of the porn content, mining humor from the anything and everything to be found on the net. It's safe to bet Don Jon's Addiction will be arriving with a very hard "R."
Adding a bit of sweetness to Don Jon's sexually charged comedy (and a hook for wary mothers) is Gordon-Levitt's impressive cast. Scarlett Johansson costars as the object of Jon's affection, the ultimate woman who whips the womanizer into boyfriend material. Johansson has never been funnier, laying on the Jersey actor thicker than Mom's pasta sauce and lighting up the screen with her natural beauty. In one scene, her chaste character Barbara seduces Jon into going back to school, right in the middle of her apartment building hallway. Until you've heard Johansson whisper "night classes" in her sexiest voice, you don't know what real comedy is.
Don Jon's Addiction could have become the next Shame, an Oscar-worthy role for Gordon-Levitt that tackles the all-too-real world of porn addiction. Instead, it's riotous comedy with a flashy style worthy of the greasy-haired, nightclub lifestyle it aims to spoof. When Tony Danza shows up to play Jon's Dad, you know Gordon-Levitt is pulling out all the stops — a fact clearly recognized by Relativity's big payout. Watch for the movie this summer… and be careful who you bring with you.
[Photo Credit: Voltage Pictures]
Follow Matt Patches on Twitter @misterpatches
More:
James Franco Had a Lot of Sex at Sundance Last Night
'Before Midnight' Completes a Trilogy at Sundance, Questions True Love
Gael Garcia Bernal Is the Hottest Import at Sundance
---
From Our Partners:


What Happened to 33 Child Stars (Celebuzz)


40 Most Revealing See-Through Red Carpet Looks (Vh1)