Great Actors Who Star in Bad Movies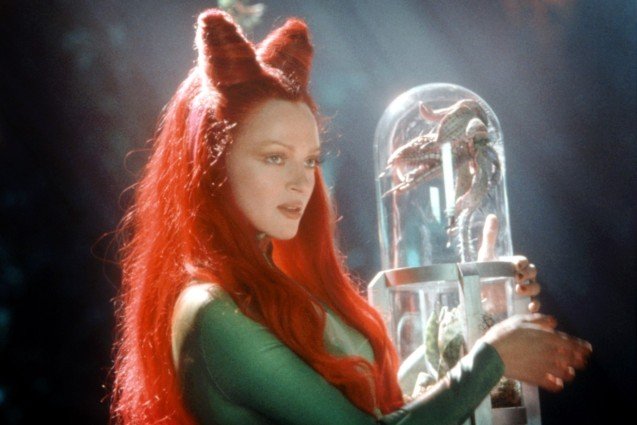 Warner Bros via Everett Collection
We might never understand why some amazingly talented actors continuously make bad movies. Sure, actors need paychecks to buy gold-plated toilet seats or pay taxes. Things can happen with the script, edit, or production that can ruin the film. But that doesn't explain why some performers seem pathologically drawn to horrible roles.
Thurman has proven herself an amazing actress, bringing down the house in Quentin Tarantino's Pulp Fiction and Kill Bill movies. Plus, despite the lack of commercial success, Gattaca was a decent watch for cleaning-your-apartment days. However, she has made some major duds. Batman & Robin single-handedly killed the pre-Nolan Batman franchise with bad puns. The remake of the hit 1960s series The Avengers was maligned by audiences and critics. My Super Ex-Girlfriend  is like an amazing SNL sketch painfully stretched out for 90 minutes. And as for Prime? Let's just say that is one of the few movies that did not earn Meryl Streep an Oscar nomination.
Pace showcased his acting abilities by playing real-life transgender activist Calpernia Addams in Showtime's Soldier's Girl. He also starred in the cult-classic television series Pushing Daisies. And yet, despite his leading man good looks, distinct voice, and acting chops, he hasn't been able to get plumb roles. He starred in the painful romantic comedy When in Rome, the misguided remake of the newspaper comic Marmaduke, and joined the Twilight and Lord of the Rings franchises three movies too late.
Rossum is the star of the successful Showtime series Shameless. She also burst onto the scene in the film version of Phantom of the Opera. And yet, she hasn't been able to star in a good film recently. It's strange, because she has the looks and musical talent of Anne Hathaway without her polarizing "humility." And yet, she starred in the failed adaptation of the anime Dragonball: Evolution, the young adult novel Beautiful Creatures, and the remake of The Poseidon Adventure. 
Brody, best remembered for winning an Oscar for The Pianist and subsequently making out with Halle Berry, seems to alternate between amazing performances and horrible movies. In the indie Detachment, he played a misanthropic substitute teacher trying to inspire his students. But he also starred in the obscenely horrific InAPPropriate Comedy, playing a character named Flirty Harry, and the equally regrettable High School. Sadly, his few forays into big-budget leading man roles —  Predators, The Village, and King Kong — didn't catapult him into superstardom or win over audiences.
Parker has made millions off playing Carrie Bradshaw on Sex and the City. However, aside from the two films in the series and the Halloween classic Hocus Pocus, she doesn't have a lot of great films to speak for her talent. This is the girl from Footloose — she deserves better. She starred in the wildly unsuccessful movie remake of Strangers with Candy, the dismal Dudley Do-Right, and Mars Attacks!… not to mention New Year's Eve, by far the worst celeb-filled holiday film. Despite finding fame playing a sex expert, her rom-coms Failure to Launch, If Lucy Fell, and Did You Hear About the Morgans have been flatter than a Jimmy Choo ballet slipper.
Eh, it's a living.