'Great Expectations': Is Helena Bonham Carter's Miss Havisham Too Lovely?  — TRAILER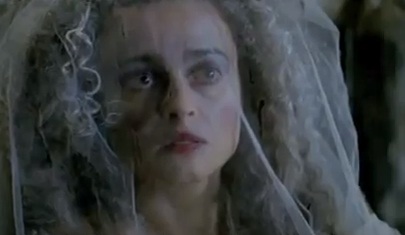 We've come to expect that movies will take any real life character or situation and mold it into a more digestible, often more beautiful form. But some characters are, without a doubt, bound to their more terrifying forms: ring wraiths, the dementors, and Miss Havisham. However, in the newly released trailer for Mike Newell's adaptation of Charles Dickens' Great Expectations, we find Helena Bonham Carter as a new kind of Miss Havisham — one who's almost alluring.
The trailer delivers the main antagonist of the novel as someone evolved from the text's original, terrible description in which Miss Havisham is the Dickens equivalent of a zombie:
"But, I saw that everything within my view which ought to be white, had been white long ago, and had lost its lustre, and was faded and yellow. I saw that the bride within the bridal dress had withered like the dress, and like the flowers, and had no brightness left but the brightness of her sunken eyes. I saw that the dress had been put upon the rounded figure of a young woman, and that the figure upon which it now hung loose, had shrunk to skin and bone. Once, I had been taken to see some ghastly waxwork at the Fair, representing I know not what impossible personage lying in state. Once, I had been taken to one of our old marsh churches to see a skeleton in the ashes of a rich dress, that had been dug out of a vault under the church pavement. Now, waxwork and skeleton seemed to have dark eyes that moved and looked at me. I should have cried out, if I could."Of course, for the film, Carter's Havisham is a creature that would perhaps more logically beget a child as beguiling as her ward and weapon against all men, Estella (Holliday Granger). The trailer sets up Pip's (War Horse's Jeremy Irvine) unwieldy life journey through the house of Miss Havisham and into his more wealthy life at the hands of a mysterious benefactor, all while Granger's cool Estella tempts him with her heartless beauty. The film also stars two of Carter's Harry Potter co-stars, Ralph Fiennes as Magwitch and Robbie Coltrane as Mr. Jaggers (Carter's Bellatrix LeStrange was bound to Fiennes' Voldemort while Coltrane's Hagrid helped Harry Potter).
Check out the trailer and judge Carter's Miss Havisham for yourself. Does she meet your great expectations? Could we even handle a Havisham who truly met Dickens' description?
[Photo Credit: Lionsgate]