Genius or Crazy? 'Great Gatsby' Star Carey Mulligan Says Her Daisy is Part Kardashian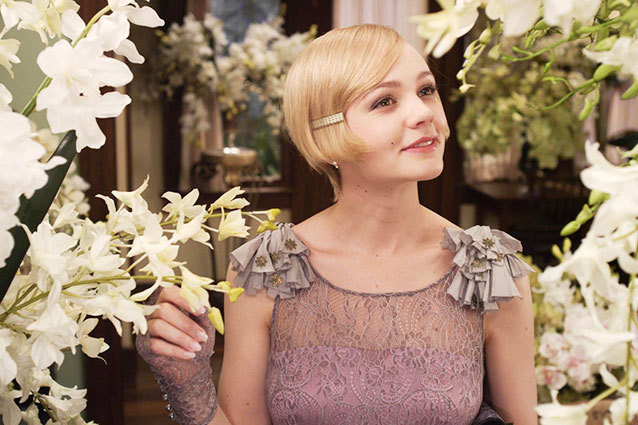 Most Great Gatsby aficionados might balk at the idea of comparing any of F. Scott Fitzgerald's characters to a reality star known initially for her sex tape and more recently for carrying the child of Kanye West. But when Carey Mulligan compared her take on her Gatsby character Daisy Buchanan to Kim Kardashian, she might have actually had a point.  
Mulligan told Vanity Fair that much like Fitzgerald, who infused the women in his life into his female characters, she incorporated the writer's wife, Zelda Fitzgerald into what she calls her "Daisy cocktail" in addition to the notes of Ginevra King (Daisy's real-life inspiration of record and Fitzgerald's object of affection in his youth). But it's the piece of Zelda that Mulligan honed in on that's got people talking. The actress says,
'I seem always curiously interested in myself, and it's so much fun to stand off and look at me. . . .' That's a direct Zelda quote. It's that kind of feeling: I'm-so-little-and-there's-nothing-to-me, watch-me-have-nothing-to-me. She feels like she's living in a movie of her own life. She's constantly on show, performing all the time. Nothing bad can happen in a dream. You can't die in a dream. She's in her own TV show. She's like a Kardashian.
At first the correlation sounds scandalous, but it's not a particularly unfitting association considering Daisy's tendancy to look no further than her own nose. Despite Daisy's light, effervescent exterior, throughout the course of the novel we learn that her beguiling looks hide her emptiness. This beautiful, entrancing appearance with an underlying lack of substance is quite consistent with popular opinion surrounding the Kardashian sisters. However accurate or inaccurate that image is in real life, it certainly lends itself to Daisy. 
While Daisy's violent actions by the novel's end (and presumably that of the film — "spoiler" alert) aren't anything we've ever seen from our most hallowed reality vixens, it's her manner that allows the comparison. Much like Zelda (in her mind) and Kardashian (in reality), Daisy's life is very much "The Daisy Show." As far as she sees it, she's the star of the West Egg realm and if there were cameras, they'd be trained on her. As the story unfolds and her idyllic love affair with Gatsby is broken down to its harsh, unflattering truths, Daisy's true colors show. It's an instance not unlike the accusations of fraud and deception swirling around Kardashian as her divorce from her onetime Reality TV prince, Kris Humphries, becomes final. 
Now, if we get to Baz Luhrmann's Gatsby in May and we find Daisy making records of sexual escapades with D-list musicians or allegedly getting sponsors for her wedding of the century or dating one of the most famous rappers in the world, we can all start crying foul. But that's not going to happen and for the most part, Mulligan's got it right: if Daisy were a woman of 2013, she'd very likely be like a Kardashian. Or at the very least a Real Housewife of Long Island. 
Follow Kelsea on Twitter @KelseaStahler
More:
Beyonce Covers Amy Winehouse For 'Gatsby'
Baz Luhrmann Teases Major Change to His 'Gatsby'
'The Great Gatsby' To Open Cannes 
---
From Our Partners:


Eva Longoria Bikinis on Spring Break (Celebuzz)


33 Child Stars: Where Are They Now? (Celebuzz)