'Great Gatsby': Who Is Leonardo DiCaprio & Tobey Maguire's New Friend? — PIC
Many of Baz Luhrmann's The Great Gatsby characters have been taken on by big names. Leonardo DiCaprio is handling the title role, with Tobey Maguire playing the book's narrator Nick Carraway. Familiar faces like Carey Mulligan, Isla Fisher and Joel Edgerton will also fill the cast list, but there is one actor on set that many Americans might not quite recognize: Amitabh Bachchan. This isn't because Bachchan is new to the craft — far from it. The 69-year-old performer has appeared in nearly 200 films since kick starting his career in the 1970s — Bollywood films.
The Indian actor is taking on the Gatsby role of Meyer Wolfsheim, a Jewish gambler who played a part in fixing the infamous 1919 World Series (in the book, Wolfsheim was a fictional representation of real-life gangster Arnold Rothstein… better known to HBO audiences as Michael Stuhlbarg).
THR reports a quote from Bachchan, regarding the size of his role: "I play Meyer Wolfsheim for about a few seconds … By the time you look down on your popcorn to pick another morsel, I'd be gone from the film." This is interesting, considering the fact that Wolfsheim's role in the book was substantially more sizable than what Bachchan is describing. The actor posts a message on Twitter, expressing a great deal of appreciation for his part in the film: "'Gatsby' my half blink and you miss role, friendly appearance !! But with giants of Hollywood – Leonardo di Caprio, Tobey Maguire !" A real class act, that Bachchan.
The Great Gatsby arrives in 3D on December 25, 2012.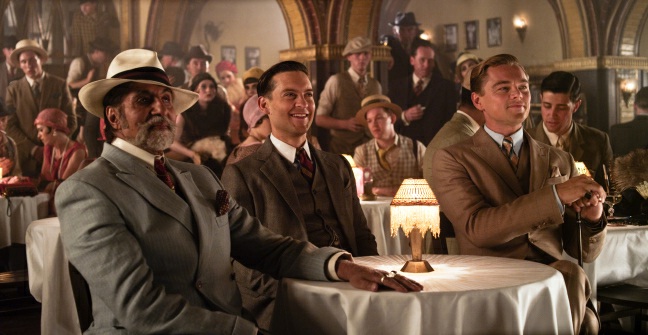 Note: If you are an American who is familiar with Amitabh Bachchan, please do not bombard the comments section with diatribes about my ignorance. Just take pride in the fact that you are better than the rest of us!
More:
Leonardo DiCaprio and Carey Mulligan Embrace the Book's Magic in The Great Gasby Images
See Leo DiCaprio, Carey Mulligan and Tobey Maguire Embody The Great Gatsby Characters
Leonardo DiCaprio Shows Off His Ride in Great Gatsby Pics
[Photo Credit: Warner Bros.]