'Green Lantern' Grabs the Green at Box Office!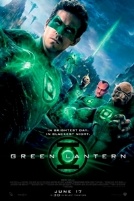 Another superhero has entered the summer movie box office sweepstakes as Warner Bros.' Green Lantern starring Ryan Reynolds and Blake Lively smashed its way into over 3,800 theaters.  The first installment in a potential new franchise, this lesser known DC Comics character is looking to build a new movie-going fan base while drawing Reynolds followers as well.  Directed by Martin Campbell (who directed Bond series films Casino Royale and Goldeneye), the film earned $52.7 million this weekend after earning $3.35 million from midnight screenings on Friday. 
Paramount's Super 8 enters its second weekend with strong momentum built on the back of a better-than-expected debut and great word-of-mouth that has been directly reflected in solid mid-week numbers that put it at around $50 million by the start of the weekend.  A 40% drop gave it a 2nd place finish with $21.2 million as it sets its viewfinder on a near $73 million domestic total by Sunday night.
Fox's new PG-rated family film entered the box office race this weekend with Jim Carrey in Mr. Popper's Penguins.  A nice alternative for families and younger kids, the film shows how the life of a businessman is turned upside down after he inherits six penguins.  Mark Waters the director of Mean Girls and Freaky Friday brings his light-hearted sensibility to the proceedings and the result was a bigger-than-expected $18.2 million.
Twentieth Century Fox's X-Men: First Class in its 3rd weekend took the 4th spot with $11.5 million.  Making its mark internationally and taking its worldwide total toward the $250 million threshold, the superhero film has a domestic tally of nearly $120 million.
Of course Warner Bros.' comedy favorite The Hangover Part II has hurled its way into the top 5 with a 4th weekend take of $9.6 million.   As its global tally continues to rise the film is a comedy phenomenon in both North America and abroad impressively closing in on the $450 million worldwide mark after just 4 weeks in theaters.
The second down weekend was expected at the box-office with last year's $110.3 million blockbuster debut of Toy Story 3 making comparisons tough this weekend.  Of course, Pixar is on the way to save the day with this coming weekend's debut of Disney's Cars 2 and as a perfect counter-programming Sony offers up Cameron Diaz in the R-rated comedy Bad Teacher.
Father's Day Weekend Box-Office Estimates
Top Movies – For Weekend of June 17, 2011
    Movie     Weekend Gross     Total to Date
1     Green Lantern (PG13)     $52.7M     $52.7M
2     Super 8 (PG13)     $21.2M     $72.8M
3     Mr. Popper's Penguins (PG)     $18.2M     $18.2M
4     X-Men: First Class (PG13)     $11.5M     $119.9M
5     The Hangover Part II (R)     $9.6M     $232.7M