Green Lantern Is DC Comics Gay Superhero (But Not THAT Green Lantern)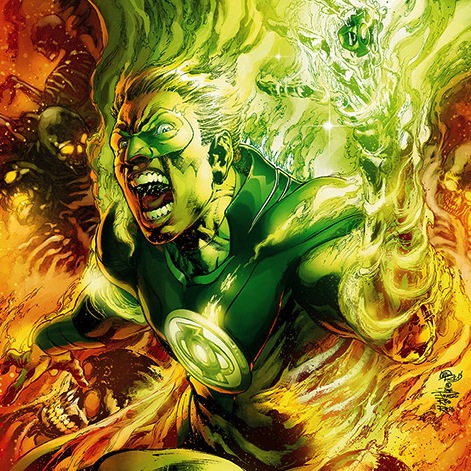 Last week, DC Comics announced that it would continue the reshuffling of their current comic book universe (relaunched in a major 2011 campaign dubbed "The New 52") by revealing one of their popular characters as gay. The move was seen as both as a progressive step forward and a sad reminder that the mainstream comic world has rarely explored gay and lesbian characters, from its emergence and well into modern day. Now DC has revealed the identity of the character: Green Lantern.
Although Green Lantern is a recognizable name to the masses (thanks to the Ryan Reynolds-led big budget Hollywood adaptation from 2011), the man DC unveiled as homosexual isn't actually that version of the character. Instead, it's a guy by the name of Alan Scott — the very first Green Lantern. Sporting a magical lantern (as opposed to a alien ring) and a weakness against wood, Scott was created in the 1940's before being replaced by the sci-fi themed Lanterns we know today. He was later developed as an alternate universe version of character who was integrated into the contemporary universe, living alongside Hal Jordan (the Reynolds character).
Meaning, he's not actually part of the main DC universe. Literally, he comes from another dimension.
As a move to diversify the comic book machismo, DC moving forward with the character development is an important step in the right direction. But is it the boldest move? Scott will be featured in a regular DC title, Earth-2, and judging from EW's first look at the book, writer James Robinson isn't wasting unnecessary time with an arc to introduce the concept (which would have come off as an even bigger stunt — especially in the wake of Marvel's long-gestating and recently announced gay marriage plotline). But DC made a big deal about the impetuous decision, and expectations for the announcement was high. Does Alan Scott, a holdover from the early days of comics, feel momentous?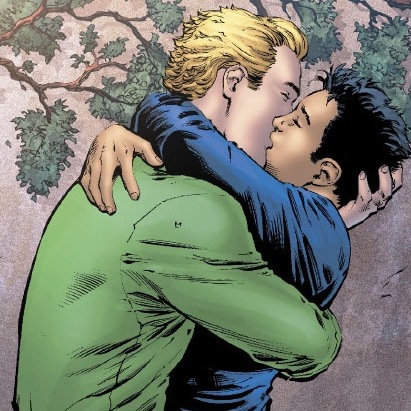 Digging deeper into the Scott character reveals some other less-than-spectacular traits that will now have to align with the adjusted sexuality. As writer Devin Faraci puts it: "[Scott] gets his power from a green flame, and his weakness is wood. A flaming gay man who is susceptible to wood? Someone should have thought it through a bit."
Comments in the original announcement wondered why the sexuality of a comic book character is important. In the cut and dry early days of comics, it may not have married. The stories were surface level, just about saving the day and preparing for the next big mission. But it's 2012, and comic books have evolved, tackling heady subject matter with three-dimensional characters. Sexuality, like any aspect of human nature, is a part of who we are and, in turn, a part of the characters in the pop culture we consume. As Robinson explains in an interview with MTV Geek, "If you want comic books to be realistic, you have to acknowledge the diversity of the human race. And for there to be a team — just by the sheer percentage of people who are gay in the world — for there to be a team without a member who is gay just isn't realistic."
Alan Scott isn't Hal Jordan, and he probably won't get his own $200 million blockbuster anytime soon. But he is alive, well, and kicking butt — and his spectrum of traits will always be a part of the adventure.
Follow Matt Patches on Twitter @misterpatches
More:
DC Comics Will Reveal Gay Superhero: Now Do It in the Movies
Martin Campbell Won't Direct A 'Green Lantern' Sequel
Angelina and Brad's Engagement Lets Gay Americans Down
[Photo Credit: DC Comics]