'Guardians of the Galaxy' Enlists Superfan James Gunn to Write and Direct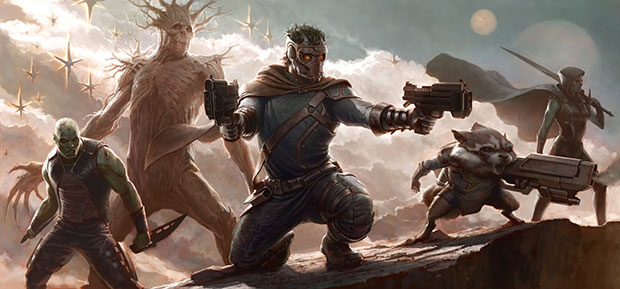 Among the greatest pieces of news at this year's San Diego Comic-Con was the official confirmation of the Guardians of the Galaxy movie. To many comic book fans, this announcement marked more than just the development of an anticipated project. Due to its wackiness and niche attitude, Guardians probably wouldn't have found a big screen life were not for the Marvel-mania incited by The Avengers and the individual feature films of its starring players. But now, it seems as though studios are willing to embrace all sorts of comic book characters — be they as well-known as Superman or as oddball as Rocket Raccoon. And in an even more encouraging fashion, the studios are not looking to revamp these titles for mainstream audiences; they are entrusting true fans of the source material to bring these projects to screen. As rumored in August, James Gunn (a self-proclaimed Guardians of the Galaxy lover) has announced that he will be taking on the new Marvel movie as writer and director.
Gunn posted the revelation on his Facebook page:
"For a month or so there's been a lot of Internet speculation about my involvement with Marvel's Guardians of the Galaxy. Until now I haven't said anything, because I'm trying to be less expulsive about this project than I am about the rest of my life. But last night I got the go-ahead from Kevin Feige to let you all know that, yes, indeed, I am rewriting and directing Guardians of the Galaxy.
As a lifelong lover of Marvel comics, space epics, AND raccoons, this is the movie I've been waiting to make since I was nine years old. Kevin, Joss, and all the folks at Marvel have been amazing collaborators so far, and we're committed to bringing you something majestic, beautiful, and unique. I am incredibly excited. I am also incredibly grateful to the fans and the press for all their words of encouragement and support regarding my involvement with this project since the news first leaked. Thanks – you have, honestly, touched and overwhelmed me. And that's it for now. Other than the occasional photos of my dog and cat here on Facebook, I'll talk to you again in August 2014 when Guardians is released!"Neither Marvel nor Disney have confirmed Gunn's announcement. The filmmaker's first big screen foray into the superhero genre was with his 2010 comedy Super. Previously, Gunn wrote and directed the comedic science-fiction/horror Slither, and has written the screenplays for Dawn of the Dead and Scooby Doo.
[Photo Credit: Marvel]
More:
New 'RoboCop' Costume Follows Suit with Modern Superheroes — PIC
'Ant Man' Test Footage Teases Comedy Action Adventure
ABC Pilots 'S.H.I.E.L.D': Joss Whedon to Co-Write, Possibly Direct