'Guardians of the Galaxy': James Gunn is Marvel's Choice to Direct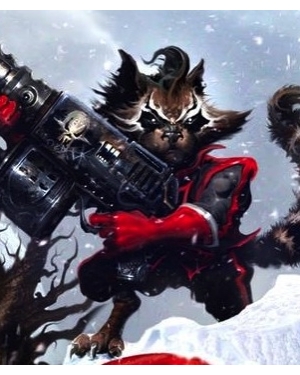 Fans of superhero reboots/origin stories/sequels/threequels/fourquels and 3D glasses take note — The Hollywood Reporter says that Slither and Super director James Gunn is in talks to direct Guardians of the Galaxy, the first original offering of Marvel's "Phase 2" of movies (the others include Avengers 2, Iron Man 3, and so on and so forth). THR claims that Marvel likes Gunn's "sensibility," and his "ability to mix comedy elements with action and horror," much like The Avengers helmer Joss Whedon.
As announced during July's San Diego Comic Con, the film — which some (me) have called "The Avengers on crack" — will feature Star Lord (a half-human/half-alien vigilante), Drax the Destoryer (a human turned green warrior who wants to kill supposed Avengers 2 villain Thanos), Gamora (the last survivor of her species, who was saved by Thanos), Groot (a talking tree with a silly name), and Rocket Raccoon (a shoo-in for favorite, because everyone loves a raccoon with a machine gun). Thankfully, earlier this month budding screenwriter Chris McCoy, a newcomer whose writing has been praised for its eccentric comic touch, was plucked to to rewrite the script, which had a previous draft by Nicole Perlman. (Because, let's face it — any movie that includes a maniac raccoon and a talking tree would suffer if they tried to play it straight.)
Though Gunn is the clear favorite, other directors — such as Peyton Reed (Bring It On) and Half Nelson duo Ryan Fleck and Anna Boden — are still in the running, in case a deal is not made. Still, I think it's time to start talking about whether or not Andy Serkis will be nominated for his inevitable performance as Rocket Raccoon.
Follow Shaunna on Twitter @HWShaunna
[PHOTO CREDIT: MARVEL]
MORE:
Marvel Announces 'Guardians of the Galaxy' Movie
'Guardians of the Galaxy' Nabs Funny Writer — Are Marvel Movies Best as Comedies?