'Guardians of the Galaxy' Nabs Funny Writer — Are Marvel Movies Best as Comedies?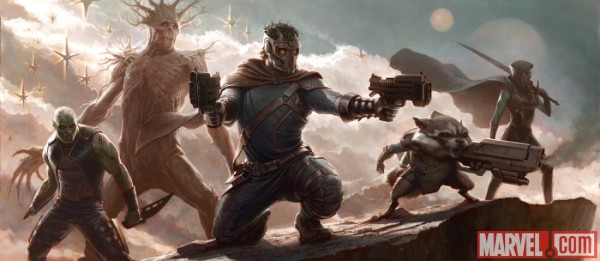 Marvel's heavily anticipated Guardians of the Galaxy film was recently confirmed as underway at San Diego Comic-Con, and has now earned a budding screenwriter to craft the script: Chris McCoy, a newcomer whose writing has been praised for its eccentric comic touch. The Hollywood Reporter revealed the news, and Hollywood.com has reached out to McCoy's reps for confirmation.
Thanks in large part to Christopher Nolan's Dark Knight trilogy, people have accepted the gravity and depth intrinsic to superheroes and their stories. We have come to a new era of appreciation for comic books. DC Comics will follow this trend with the upcoming Man of Steel movie, which looks even more existential and introspective than Nolan's Batman films. But while these movies are duly appreciated, there still seems to be a demand for comic book flicks that are just plain fun. That's where Marvel comes in.
DC might well lay claim to the serious stuff with Batman and Superman, but Marvel is definitely the leading supplier of laughs when it comes to the genre. Take a look at The Avengers: It's an action-heavy, exciting superhero adventure… but in addition to that, it's hilarious. In fact, without its sense of humor, The Avengers would not have been such a phenomenally popular movie. Look at Iron Man: another wildly beloved film, another laugh riot. In fact, all of Marvel's more successful and critically acclaimed films have had senses of humor. While the ones that took themselves too seriously — The Incredible Hulk, for instance — faltered. In short, Marvel seems to be much better with the lighthearted, self-aware, comical pictures.
And few Marvel stories deserve a sense of humor more than Guardians of the Galaxy. This intergalactic superhero troupe involves engineered soldiers, alien-human hybrids, talking trees, and trigger-happy raccoons. The story is nuts. It needs to laugh at itself. That's why a writer like McCoy, who even before really getting into the industry has earned a reputation of hilarity, is perfect for the project.
The script was previously being handled by a Marvel writing program graduate Nicole Perlman.
[Photo Credit: Marvel Comics]
More:
Marvel Announces 'Guardians of the Galaxy' Movie