The Marvel Universe Is One Big Swinger Party with Thanos in 'Guardians of the Galaxy' and Ultron in 'Avengers 2'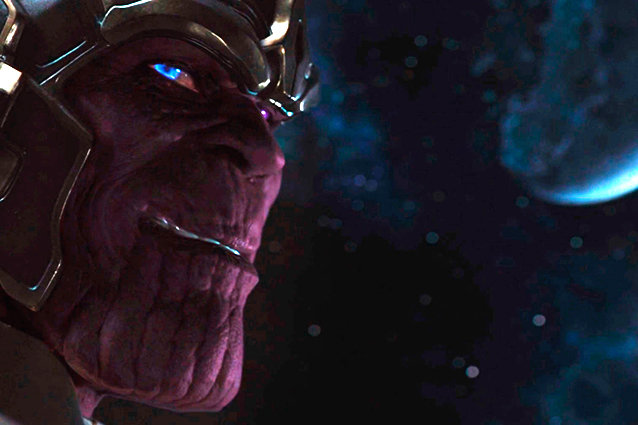 At the very end of The Avengers, fans were rewarded (you know, as if a 120-minute laugh riot of classic superheroes embarking upon visually stimulating action-adventures wasn't gift enough) with a post-credits tease of the Marvelverse yet to come. Not the shawarma, although a full-length feature surrounding the Levantine food service industry would be worthy of exploration. No, we're talking about Thanos — the cackling creature from the Saturn moon of Titan. With just a quick glimpse at the character after the conclusion of The Avengers, fans felt they already had their foot in the door of the inevitable sequel: Thanos would, certainly, play the central villain… apparently, as we now learn, not in The Avengers 2, but in Guardians of the Galaxy.
As we heard at Comic-Con, the second avengers film will actually place its evil ploys in the hands of Ultron, a character who (despite his long history battling the Initiative) is strongly associated with the Ant-Man canon, considering being a robot created by Hank Pym (a.k.a. Ant-Man) himself. So was the Thanos scene for naught? Not a bit — director James Gunn reveals that Thanos will be getting a central billing role in his upcoming Guardians of the Galaxy movie, per /film.
"We have Thanos. Thanos is the thing connecting us to the rest of the Marvel Universe at this point," Gunn said at Comic-Con. Does this hint at a future of Guardians films that might involve some of Marvel's central heroes, or is it simply a "justification" for classifying the Gunn movie — which stars Chris Pratt, Zoe Saldana, Dave Bautista, Benicio del Toro, Glenn Close, and John C. Reilly, thus far — in the same realm as the Avengers flicks? But with a surge of new titles in the works for the Marvel Studios future — Ant-Man, Black Panther, and Big Hero 6 films, along with the second and third installements of The Amazing Spider-Man franchise and a new Fantastic Four movie — how many villains will be shifted to forge universe "connections"?
Henry Pym is already giving The avengers his creation Ultron, so will Edgar Wright's Ant-Man flick feature a baddie most associated with another Marvel hero? Will this pattern continue until we come full circle and find Loki duking it out with Peter Parker in the eighth x-Men movie?
Marvel benefits from a universe so expansive and inclusive that almost any creative path is possible. Almost any two characters can meet, band together, or face off. We're looking forward to seeing which characters find themselves in cahoots or in the ring with which others, especially with such a fascinating grab bag from which to choose.
Follow Michael Arbeiter on Twitter @MichaelArbeiter | Follow hollywood.com on Twitter @hollywood_com
More:
'The Avengers 2' Will Reinvent Ultron
'Guardians' Casts del Toro and 'Doctor Who' Star
Vin Diesel in 'Avengers 2'?
---
From Our Partners


Battle of the Bikini Bodies (Celebuzz)


Complete Guide to Strippers in Movies and TV (Vh1)