Gunman Kills At Least 12 at 'Dark Knight Rises' Midnight Screening: UPDATE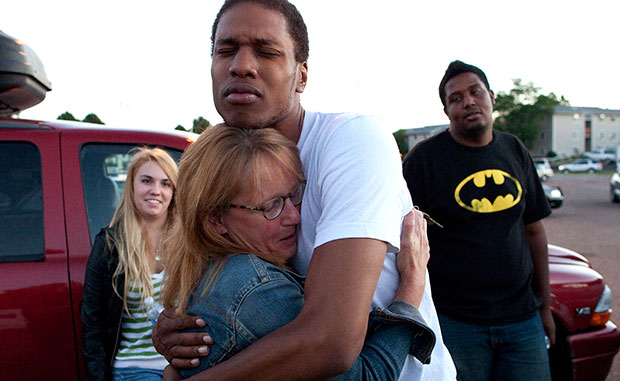 UPDATE: During a
press conference
in Aurora, Colo., police said there were 59 injuries, not 38 as previously reported by officials. 
UPDATE: Police have reportedly changed the death toll to 12 with 38 wounded . The shooter has also been named. Two federal officials have identified him as 24-year-old James Holmes.
Tragedy struck a midnight screening of The Dark Knight Rises Friday when a gunman opened fire in a Denver-area theater. According to NBC News, police had first told reporters that 14 people were killed in the incident at Aurora Town Center's Century 16 Movie Theaters while over 50 others were wounded. (Officials have since downgraded the number of those killed to 12, and upgraded the number of wounded to 59.) 
Dan Oates, the Aurora police chief, told reporters authorities had a suspect in custody while witnesses recalled seeing a man wearing "a riot helmet, goggles, and bullet-proof vest." According to witnesses, the gunman opened fire during a shooting scene in the movie and released tear gas into the theater.
"It was mass chaos," Jennifer Seeger, a witness to the tragic event, tells Today. "Everyone's going for the door and then everyone comes back in saying, 'No, he's going to shoot people that are trying to get out the door,' and he did. They're trying to escape, and he shot those people as well."
NBC News correspondent Pete Williams reports that the shooter had three weapons — two handguns and a rifle — in his possession at the the time of the shooting. The police also say the shooter had ammunition in his car, and confirm witness reports that the suspect had a gas mask.
Witnesses are also relaying that the gunman entered the theater through an emergency exit. According to the police, 10 people died at the scene. Among those reportedly treated at the hospitals were a 3-month-old infant and 6-year-old girl.
President Barack Obama has issued the following statement following the shooting: "Michelle and I are shocked and saddened by the horrific and tragic shooting in Colorado. Federal and local law enforcement are still responding, and my Administration will do everything that we can to support the people of Aurora in this extraordinarily difficult time. We are committed to bringing whoever was responsible to justice, ensuring the safety of our people, and caring for those who have been wounded. As we do when confronted by moments of darkness and challenge, we must now come together as one American family. All of us must have the people of Aurora in our thoughts and prayers as they confront the loss of family, friends, and neighbors, and we must stand together with them in the challenging hours and days to come."
Mitt Romney has shared one as well: "Ann and I are deeply saddened by the news of the senseless violence that took the lives of 15 people in Colorado and injured dozens more. We are praying for the families and loved ones of the victims during this time of deep shock and immense grief. We expect that the person responsible for this terrible crime will be quickly brought to justice."
Warner Bros has also released a statement to Hollywood.com: "Warner Bros. is deeply saddened to learn about this shocking incident. We extend our sincere sympathies to the families and loved ones of the victims at this tragic time." Warner Bros also confirms to Hollywood.com that the Paris premiere of Dark Knight Rises, which was scheduled for Friday evening, has been canceled due to the shooting.
Cinemark, which owns the theater where the shooting took place, tells Deadline.com: "Cinemark is deeply saddened about this tragic incident. Our thoughts and prayers are with the victims, their families and loved ones, our employees, and the Aurora community. We are grateful for the quick and professional reaction of all local law enforcement and emergency responders. Cinemark is working closely with the Aurora Police Department and local law enforcement."
Developing Story…
Visit NBCNews.com for breaking news, world news, and news about the economy
(Written by Lindsey DiMattina and Kate Ward)
[Photo credit: AP images]