'Gunsmoke' Star James Arness Dies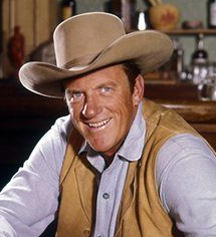 James Arness, star of the acclaimed show Gunsmoke, has died in his home in Los Angeles. He was 88.
Best known as Marshal Matt Dillon in the long-running television show, Arness helped define the American Western as what we know it today. He stood at a towering 6-foot-7 and carried a resume that would have probably got him a real law enforcement job. He served in World War II, came home decorated (with a Purple Heart and Bronze Star) but with a leg wound that would make mounting a horse a very difficult task.
But despite that, he still went on to serve Gunsmoke for 20 years, from 1955-75, as the soft-spoken Marshal. Before Gunsmoke, Arness broke into the business with the 1947 drama The Farmer's Daughter and 1951's The Thing From Another Planet. This led to his eventual casting in Gunsmoke, and surrounding that time period, the actor made over 50 films and television movies, mostly westerns, managing to span his career over five decades.
He is survived by his wife Janet; two sons, Rolf and Jimmy; and six grandchildren.
Source: NYTimes