Gus Van Sant, 'Promised Land' Director, Compares Hollywood to Fracking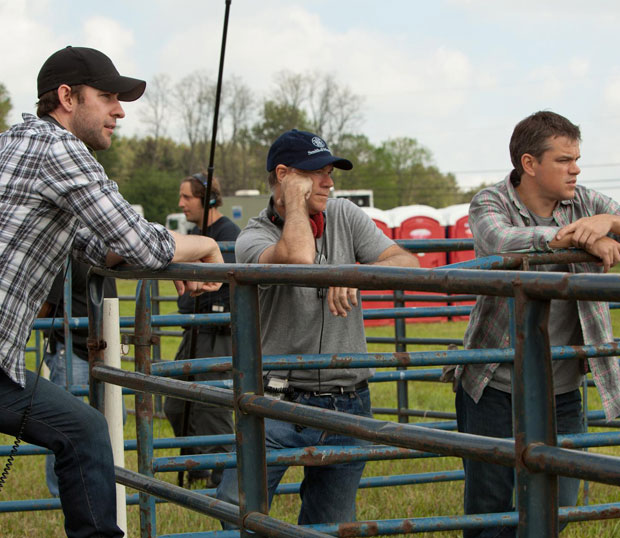 Director Gus Van Sant was a late addition to John Krasinski and Matt Damon's cautionary tale against fracking, Promised Land. The script was finished and the lead actors (Damon and Krasinski) were cast when Damon had to back out of his anticipated role as director. "One year ago, [Damon] decided he didn't have time [to direct] so he called and said, 'Do you want to direct it?'" Van Sant tells Hollywood.com. "I guess I was the person they thought of. Or, I don't know if they checked with Soderbergh first or what. I took one night, read it, and said, 'Yeah sure,' because I really liked it." The rest, as they say, was history.
Van Sant is no stranger to Damon's writing — the two teamed up for Good Will Hunting (1997) and Gerry (2002) — and he found much to work with in Damon and Krasinski's script. "The characters were interesting, the dialogue was funny but it was also pretty serious, the story was very enthralling and you were pulled into it. Everything else I could imagine putting into it was exciting. Everything was in order," Van Sant says. "My thing is usually if you have a good story then all the other stuff is sort of doable. Like the thing that you really need is a story. [Promised Land] did have a good story and then it also had all these other things as well."
PICS: 20 Best (and Worst) Movies of 2012
The "other things" Van Sant refers to are heart, compassion, and a nuanced look at the fracking issue at hand. And in Promised Land, these elements shine through the well-developed, charismatic characters. So for Van Sant, nailing the casting was paramount. "It became at some point common knowledge to directors that casting was a large part of your job," Van Sant says.
"I guess I think of Streetcar Named Desire," Van Sant says by way of analogy. "If you're casting that play, and you find a Marlon Brando — because I think that was one of Marlon's first roles — but you have an ability to use somebody that's maybe been around … who was more well-known than Marlon, what's the better choice? It's not necessarily the most well-known person, it's the person that's going to really make the role sing. So if all your characters are cast in that fashion, then each of the roles are cast perfectly and they're going to make it sing."
With Promised Land, the actors certainly make their roles sing. Joining Damon and Krasinski in the film's talented cast are Frances McDormand, Hal Holbrook, and Rosemarie DeWitt. The audience expects a high quality of work from this slate of actors, but at the same time, Van Sant knew he could trust them to bring the goods. "Somebody was just talking about what made a good director … what produces a good performance, and it was something about letting the actor run free with it so they can actually have fun with the character. As opposed to the director being an enforcer, like more of a policeman," Van Sant says. "If you're afraid to let the [actor] go too far one way or the other because of maybe a preconceived vision that you had or because of simple blocking or lighting or mental versions of that … it can become the job of the actor to simply listen to the director's preconceptions. A lot of times that means that they don't get to have their own preconceptions. So this person talking was saying like, in the best situations it's usually that the directors trust their actors to sort of go with it."
PICS: Best Movie Trailers of the Year
Speaking of his Promised Land cast specifically, Van Sant says, "They're such pros that they just do it. But then, you know, they are looking at you and asking what you think. But sometimes they don't care what you think … Ben Affleck was talking about something that I told him that he actually used. We were doing Good Will Hunting and he was asking me about, 'What if the actor wants to do something different? What if they want to change the words and just do something different? What do you do?' And I said, 'Oh, I usually let them do it.' And he couldn't believe it!"
Van Sant continues, "You know, the freedom is the thing that's necessary. If the actor wants to change the script, usually what can happen is it becomes good, it makes the script really good, or he himself will actually realize it's not so good and will say, 'Let's go back.' But it's the freedom to do that that really empowers them and makes the actors see for real that they're actually part of the process. It's not like they're just there to recite lines for you."
Damon's performance in Promised Land hinges on his ability to imbue his character Steve, a sales representative for the massive natural gas drilling corporation, with sympathy. But [SPOILER ALERT!], a third act twist has Steve choose to ally with the farming community and environmentalist perspective rather than his employer. "I think it's because of the corporate deception," Van Sant says of Steve's change of heart. "It's a common theme, and has been a common theme since corporations were invented. Because I think they were an invention in the 50s, like literally the way a modern corporation worked. In our film — like the films I used to grow up watching about corporate deviousness — is also about corporate deviousness. And [Steve's decision] is not because of the actual business of the corporation so much as it's about the structure of any given corporation."
"We're also, as filmmakers, working for a corporation," Van Sant says, drawing a comparison between Hollywood and the natural gas corporation in the film. "Our parent company is also just a big giant corporation … Which means that individual thinking, anyone kind of using their imagination, is a threat to profits … Say, if you met two actors and you just had a hunch that one of them might be better than the other, but the other one had starred in Twilight, and then if you used "Actor A" who didn't star in Twilight and your movie never made any money, the corporation might say, 'Why'd you make that decision?' And you said, 'Well I had a hunch they might be right.' Then you'd be fired. You might be celebrated if the movie made twice as much money as Twilight, but just making that individual decision is the thing that's not allowed in the corporation. So you have to go with the Twilight guy because it makes sense in view of the people behind the desk that are controlling numbers. There are so many corporate deceptive agencies that had sort of appeared over the last 20 years, because of the executives needing to be safe from their own bosses."
GALLERY: 10 Biggest Golden Globes Movie Snubs
Luckily for Van Sant, with Promised Land he was able to have his cake and eat it, too. While non of his A-list cast appeared in Twilight, Damon, Krasinski, and McDormand (as well as Van Sant) are names that fill theater seats. And yet, they were also the perfect people to make their characters sing. 
Follow Abbey Stone on Twitter @abbeystone
[Photo Credit: Focus Features]
More:
Matt Damon On Almost Ruining John Krasinski's Plans for 'Promised Land' — EXCLUSIVE
'Promised Land' Is a Big Good Will Hunting Miracle — TRAILER
Win Tickets to See 'Promised Land' and a Q&A With Matt Damon!

20 Hottest Bikini Bodies of 2012: Miley and More!
Spoiler! Spider-Man Comic's INSANE Ending