'Hangover 2' Posts Record R-rated Midnights!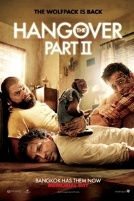 Warner Bros.' The Hangover: Part II got off to an incredible start raking in the largest midnight haul for any R-rated film with $10.4 million in 2,600 theaters.  This beats the previous record set by Paranormal Activity 2 which earned an impressive $6.3 million back in October of 2010.  Given this incredible start, the film has a real shot at beating the record for biggest opening day for an R-rated film which is held by Warner Bros.' The Matrix Reloaded and its $42. 5 million opening day gross on Thursday May 15, 2003.
This sets up the potential for The Hangover: Part II to challenge The Matrix Reloaded and its record R-rated opening weekend (F-S-S) of $91.8 million and assures that the film will post the biggest R-rated comedy debut of all-time topping the original Sex in the City movie (also from Warner Bros.) and its $56.8 million opening weekend in May of 2008.
With a massive 5 day take in the cards for The Hangover that will be well in excess of $100 million, the overall marketplace is in a strong position to possibly eclipse the record $254.6 million Friday through Monday Memorial Weekend haul back in 2007 when Pirates of the Caribbean: At World's End, Shrek the Third and Spider-Man 3 led the box office.