Hank Aaron to Get Biopic Treatment, Courtesy of 'Rain Man' Director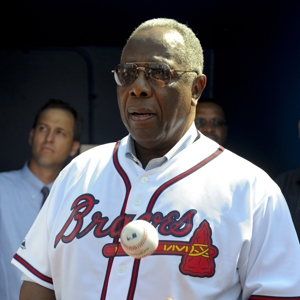 Two days before Major League Baseball's opening day (we know, baseball purists: A couple of games were already played last week in Japan), exciting news has surfaced: Henry 'Hank' Aaron is getting a biopic!
Veteran filmmaker Barry Levinson — Oscar winner for 1998's Rain Man and no stranger to sports cinema, having directed an entry in ESPN's acclaimed 30 for 30 series as well as the 1984 baseball classic The Natural — will helm the film, which will be written by Adam Mazer (Breach) and based on the Howard Bryant book The Last Hero: A Life of Henry Aaron.
The focus will be on Aaron's chase of Babe Ruth's all-time home run record between the years of 1972 and 1974, a tumultuous period for the Hall of Famer that, to say the least, was not full of well-wishers. Aaron eventually broke Ruth's record on April 8, 1974, but Aaron's record itself would fall in 2007 at the hands of Barry Bonds (and even more controversy).
"This was a difficult time in my life," Aaron said, "but I'm confident we can all learn a little something from looking back at those times."
Writer Mazer had this to say about the project, which is hoped to be released in 2014: "My first sports memory as a kid was watching Henry Aaron hit No. 715. At the time, I had no idea how profound a moment it was for baseball and, more importantly, the nation. To have the opportunity now to bring his harrowing journey to the screen is an honor and a thrill."
Of course, the question immediately becomes: Who should play Hammerin' Hank? The first actor who comes to mind — at least for yours truly — is Andre Braugher, an undeniable look-alike but one who, at nearly 50 years old, would presumably have some trouble playing Aaron or replicating his trademark smooth swing. Although … it's worth noting that when Aaron broke the aforementioned record, he was 42, so it's not out of the realm of possibility, with help from some movie magic. If producers want to go (a little) younger, perhaps Don Cheadle?
More:
Ashton Kutcher to Play Steve Jobs in Biopic
Rupert Grint and Chloe Moretz Join Beach Boys Biopic
[Variety]