'Hansel & Gretel' Tops Weekend Box Office With $19 Million, 'Parker,' 'Movie 43' Soft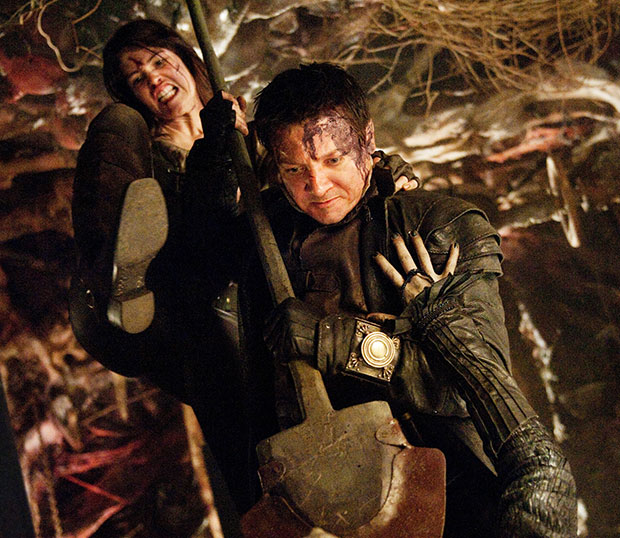 As expected Paramount's Hansel & Gretel: Witch Hunters, the ultra-violent update of the classic fairy tale, topped the box office for the weekend of Jan. 25. But unlike a certain evil witch's house, it wasn't exactly made of candy. It opened in 3,372 theaters, including in 3-D and IMAX, but wound up grossing $19 million. It had been expected to earn somewhere in the low to mid-$20 millions. For a movie that had been heavily publicized and stars the bankable Jeremy Renner (The Avengers) and Gemma Arterton (Quantum of Solace), that's gotta be seen as somewhat disappointing, but a 38% uptick on Saturday showed that among moviegoers word-of-mouth was solid. Blame the frosty weather blanketing much of the eastern United States for moviegoers staying home, and, in the case of Hansel & Gretel, the even frostier reviews it received from critics. It only earned a score of "22" out of 100 on the review aggregation site Metacritic.com.
RELATED: 'Hansel & Gretel' To Spin Box Office Fairytale
Actually, "underperformance" was the keyword to understand all of the box office numbers this weekend. The other big new debuts, the Jason Statham/Jennifer Lopez actioner Parker and the bizarre collection of raunchy short films called Movie 43 that seemed to rope in most of Hollywood's A-List, opened very soft. FilmDistrict's Parker premiered in 2,224 theaters but only made $7 million to land at No.5, while Movie 43, which couldn't even get a Metacritic score half as large as 43, posted a sluggish $5 million to enter at No. 7.
RELATED: 10 Pop Culture-Inspired Gingerbread Houses
Neither of them could overtake Jessica Chastain's surprise horror-hit Mama, which banked another $12.9 million to place No. 2 behind Hansel & Gretel. Chastain failed to replicate the one-two box office dominance of Mama and Zero Dark Thirty that she managed the weekend of Jan. 18, but the latter film continued to perform strong with $9.8 million being added to its $69.9 million haul. Speaking of Oscar hopefuls, Silver Linings Playbook held on to the No. 3 spot, with another $10 million proving that Harvey Weinstein's gradual-release strategy really does pay off.
RELATED: Jessica Chastain Delivers One-Two Punch at Box Office with 'Mama' and 'Zero Dark Thirty'
Here are the weekend's Top 5
1. Hansel & Gretel: Witch Hunters: $19 million
2. Mama: $12.68 million; Cume: $48.65 million
3. Silver Linings Playbook: $10 million; Cume: $69.46 million
4. Zero Dark Thirty: $9.8 million; $69.9 million
5. Parker: $7 million
[Photo Credit: Paramount Pictures]
---
You Might Also Like:

Who Wore This Crazy Hat?

Stars Who Changed Their Look