Happy Birthday, Twihards: 'Twilight Saga' Marathon in Theaters for 'Breaking Dawn' Release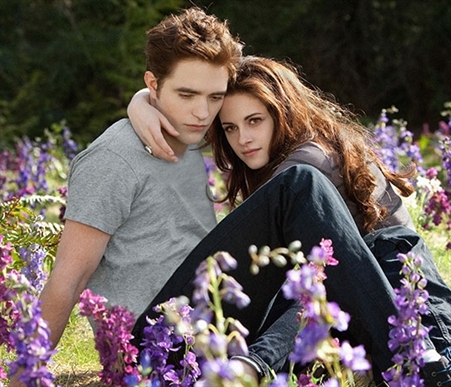 What are your plans for November 15?
A good number of Americans probably don't have anything lined up just yet — maybe getting ready for Thanksgiving, prepping the bomb shelter for the 36-days-away apocalypse, recycling. But there is a specific community that are already designing new costumes, stocking up on rations, and calling in sick to work ("It's one of those rare viruses that effects you two months after you find out about it"), as Nov. 15 marks the one-time-only The Twilight Saga Move Marathon in theaters across North America.
Starting early on this Thursday, several theaters across the continent will offer the experience of watching all of the Twilight Saga movies, back to back: Twilight, New Moon, Eclipse, Breaking Dawn – Part 1, and culminating with advanced screenings of Breaking Dawn – Part 2 at the local time of 10 PM.
Elsewhere, the final chapter of The Twilight Saga will reach theaters the following day, Nov. 16. The film will conclude the adventures of series stars Kristen Stewart, Robert Pattinson, and Taylor Lautner.
[Photo Credit: Summit Entertainment]
More:
Kristen Stewart on Impending Rob Pattinson Reunion: 'We're Totally Fine'
'Twilight: Breaking Dawn — Part 2' Trailer Debuts at the 2012 MTV VMAs
'Twilight: Breaking Dawn Part 2': 7 Essential Images from the Trailer for the Trailer — VIDEO
From Our Partners:

Relive Ryan Reynolds' Sexiest Looks — GALLERY
(Celebuzz)

(Celebuzz)