Happy 'Hunger Games'! We're Giving Away a Rare Lithograph Signed by The Cast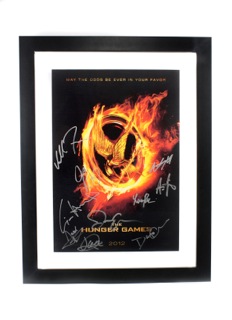 You're probably such a dedicated Hunger Games fan that you've made the strategic decision to skip this introduction and move onto the goods: the prize itself. After all, if you learn anything from reading through the cutthroat games and enjoying the first film, it's that there's no room for lollygagging in the Hunger Games.
Well, we can appreciate that, so here are the details on how you can take home the rare (completely sold-out) Hunger Games lithograph signed by the cast including Katniss herself, Jennifer Lawrence, as well as Josh Hutcherson and Liam Hemsworth. Target.com made only 100 of these lithographs in celebration of the Hunger Games DVD release, and they're no longer available — unless you win one from Hollywood.com!
May the games begin and may the odds be ever in your favor…
Here's how you to take aim at the prize:
1) Log onto Twitter today, starting at 10 AM ET
2) Follow @Hollywood_com
3) Tweet the following phrase: "I'm a #HungerGames fanatic! May the odds be in my favor to win the @Hollywood_com #HungerGamesSignedLithograph"
A winner will be chosen at random, and the contest will run until Tuesday, Sept 11 at 5 PM. So tweet now and enter to win!
For the official rules,