'Harry Potter 7' Tops Tuesday Box Office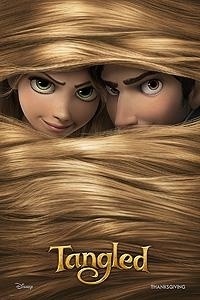 Notable Tuesday Box Office news: 'Tangled' on the cusp of $100 million at the domestic box office.
First Place – Warner Bros.' 'Harry Potter and the Deathly Hallows, Part 1' – Mr. Potter gets his revenge with a first place finish on Tuesday after losing the weekend to Miss Rapunzel in 'Tangled.  $1.279 million on Tuesday in 4,125 theatres with a domestic total approaching $250 million.
Second Place – Disney's 'Tangled' –  $1.255 million in 3,603 theatres for Monday gives this PG-rated family favorite a strong second place finish and after 14 days of release the 3-D animated re-telling of Rapunzel has a domestic total of $98.87 million.
Third Place – Sony's 'Burlesque' – Cher and Christina dance their way into the third spot with $712,503 for Monday and $28.2 million after 14 days in theatres the film has a domestic total of $28.2 million.
Daily Box Office Top 12 Movies for Tuesday, December 7, 2010:
| | | | | |
| --- | --- | --- | --- | --- |
| Movie Title | Tuesday Gross | Theatres | Per-Theatre Average | Domestic Total |
| 1. Harry Potter 7 | $1.27M | 4,125 | $310 | $246.9M |
| 2. Tangled | $1.25M | 3,603 | $348 | $98.9M |
| 3. Burlesque | $712k | 3,037 | $235 | $28.2M |
| 4. Love and Other Drugs | $601k | 2,458 | $245 | $23.6M |
| 5. Unstoppable | $500k | 3,152 | $159 | $69.6M |
| 6. Faster | $400k | 2,470 | $162 | $18.9M |
| 7. Due Date | $386k | 2,450 | $158 | $91.6M |
| 8. The Next Three Days | $288k | 2,236 | $129 | $18.8M |
| 9. Megamind | $286k | 3,173 | $90 | $137.1M |
| 10. The Warrior's Way | $260k | 1,622 | $160 | $3.6M |
| 11. Black Swan | $210k | 18 | $11,665 | $1.9M |
| 12. Morning Glory | $197k | 2,263 | $87 | $29.3M |
*Monday daily box office numbers provided by Hollywood.com Box Office