'Harry Potter and the Deathly Hallows Part I' Blu-ray Giveaway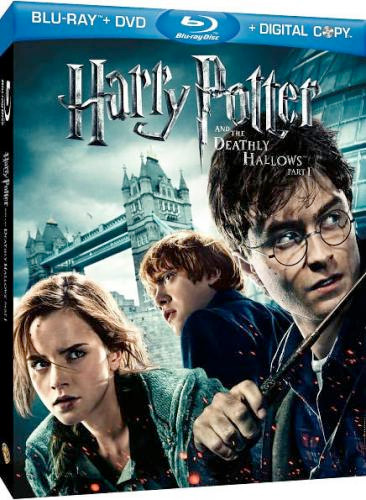 Harry Potter and the Deathy Hallows, Part I is finally available to watch at home and we felt like we waited forever for it.  We can't gush enough about this movie or the Blu-ray but if you'd like to see us do it, check out last week's New in Blu.
But the wait is over and the Deathly Hallows is Available NOW on Blu-ray Combo Pack, DVD, On Demand and for Download. You can buy it here at the WB Shop and also check out Harry Potter: The Quest too!
We love the film so much that we partnered with Warner Bros. Home Entertainment and are giving away a free Blu-ray copy plus a video game!
About the Film
Harry, Ron and Hermione set out on their perilous mission to track down and destroy the secret to Voldemort's immortality and destruction – the Horcruxes. On their own and on the run, the three friends must now rely on one another more than ever…but Dark Forces in their midst threaten to tear them apart. Meanwhile the wizarding world has become a dangerous place. The long-feared war has begun and the Dark Lord has seized control of the Ministry of Magic and even Hogwarts, terrorizing and arresting all who might oppose him. The Chosen One has become the hunted one as the Death Eaters search for Harry with orders to bring him to Voldemort… 
The Prize Pack
– One (1) Harry Potter and the Deathly Hallows – Part One Blu-ray Combo Pack
– One (1) Harry Potter and the Deathly Hallows Video Game
How To Enter:
1. Follow us on Twitter by clicking HERE.
2. Tweet this post by clicking the Tweet button at the top of this page.
We'll pick one random winner to be announced on Friday, Apr 22.
NOTE: You MUST have a valid U.S. address.