Harry Potter and the Film Franchise That Changed Hollywood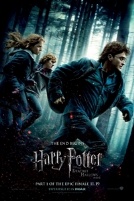 Harry Potter. The very name conjures up the image of a bespectacled young wizard and his two best friends in a fierce battle against the forces of evil. The imagination of J.K. Rowling manifested in the sprawling seven book series that became arguably the definitive fictional work of a generation has bred the most successful movie franchise of all-time. This Friday with Harry Potter and the Deathly Hallows: Part 2 the "Potter" series begins its final phase. Or as Warner Bros. marketing succinctly sums it up, "it all ends."
On November 16, 2001 the series' first installment, Harry Potter and the Sorcerer's Stone, debuted to an incredible opening weekend of $90.3 million and went on to become the highest grossing film released that year with $317.6 million in North America and a global tally of nearly $975 million (the highest of all the films to date). It would have been almost inconceivable at the time that nearly 10 years later in 2011 the franchise would be just as viable, relevant and exciting to audiences and that $6.4 billion in worldwide box office would be banked safely in the Hogwarts vault.
A perfect box office track record fueled by the devotion of a major motion picture studio to a creative artist's vision, perfect casting and special effects technology that could actually do justice to the incredible description of events contained within each beloved tome have created a motion picture event for the ages and one that will be studied for years to come.
Have a look at the sheer might of these magical movies through this custom infographic below, and read on past the chart for some fun Potter facts!

All seven Potter films have debuted at number one (surely that number will become eight this weekend).The collective worldwide box office of the seven films is an incredible $6.4 billion (with that you can buy almost 32 million Harry Potter and The Deathly Hallows Real Action Heroes Figures priced at $199.95).If you add up just the opening weekend grosses you get $655.0 million (with that you can buy about 26 million Harry Potter InfraRed Interactive Toy Wands priced at $24.95). That's a lot of magic wands.If you add up just the seven opening day grosses you get $304.4 million (with that you can buy 922,696 Harry Potter Authentic Replica Invisibility Cloaks priced at $329.95).Believe it or not a Potter film has never earned over $1 billion at the worldwide box office (though there is a high probability that, with a boost from 3-D ticket sales and IMAX, this last installment will be the first to do so).Over 300 million tickets have been sold in North America for the seven films and around a billion worldwide.Since 2001 there has been a Harry Potter movie released in all but 2003, 2006 and 2008.At a mere 2 hours and 12 minutes this last Potter is the shortest (The longest was Harry Potter and the Chamber of Secrets at 2 hours and 41 minutes).